Western Himalayan Temple Records
Verfasst von pw am Do, 07/02/2009 - 22:47.
Sharma, Mahesh:
Western Himalayan Temple Records : State, Pilgrimage, Ritual and Legality in Chambā / Mahesh Sharma. - Leiden [u.a.] : Brill, 2009. - xx, 400 S. - (Brill's Indological Library ; 31)
ISBN 978-90-04-17693-5
EUR 114,00 / US$ 169,00
DDC: 294.535095452
-- Angekündigt für Juli 2009 --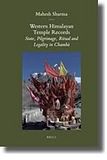 Beschreibung
While numerous studies exist on major South-Asian temples, surprisingly little is known about 'minor shrines' and 'lesser states'. Here fifty-five new documents, in a western-Himalayan script and language, and belonging to a small Siddha shrine, redress this remarkable gap in our knowledge. The documents cover a wide spectrum—from revenue grants to those dealing with ritual, pilgrimage, legality and temple-economy—thus building a picture of the relationship between state and shrine, and particularly so for the minor centres: their popularity and relationship with major temples; mundane matters; notices, petitions, and law-suits. It becomes clear how 'lesser states', despite their limited resources, patronized numerous small shrines, along with major temples; and the role played by the Nath-Siddha-ascetics in creating consent-to-rule, acculturation, and constructing hybridity between the Hindu and Tibetan-Buddhist traditions. [Verlagsinformation]
Inhalt
Introduction
A western Himalayan kingdom : the state formation and cultural complex, 700-1650 CE
The state and the portal of Charpat : small shrine-big symbol
Context : language, measures, and festivals
Documents
Epilogue : a small state and the little shrine
Appendices.
Autor
MAHESH SHARMA, Fellow IIAS-Simla (1993-95) and Fulbright Senior Fellow (2007), teaches History at Panjab University, Chandigarh. He has published extensively on western-Himalayan religious and cultural history including The Realm of Faith: Subversion, Appropriation and Dominance in the Western Himalaya (2001).
Quellen: Brill; WorldCat; Amazon (Deutschland)