Pilgrims and Travellers in Search of the Holy
Verfasst von pw am Fr, 10/15/2010 - 21:21.
Gothóni, René [Hrsg.]:
Pilgrims and travellers in search of the holy / ed. by René Gothóni. - Oxford ; Bern ; Berlin ; Bruxelles ; Frankfurt, M. ; New York, NY ; Wien : Peter Lang Verlag, 2010. - VII, 306 S. : Ill.
ISBN 978-3-03-430161-9
EUR 45,20
DDC 294.3435; 294.535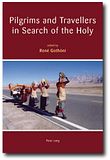 Beschreibung
The enigma of Buddhism, and especially Tibetan Buddhism, has enchanted Westerners for centuries. Most of the papers in this volume were delivered at the 'Pilgrims and Travellers in Search of the Holy' international symposium convened at the University of Helsinki on 18 October 2008.
The symposium focused on Buddhist and Hindu sites from a comparative perspective, bringing together a team of established international scholars and younger researchers working on their doctoral theses, all with extensive experience of field research. This volume therefore comprises a theoretical part and an empirical part. The former discusses universal aspects of pilgrimage and travel, whereas the latter focuses on Buddhist and some Hindu sites in West Bengal, China, India, Japan, Russia, and Tibet. For decades the unsettled political conditions in Tibet have made it difficult for scholars to enter the holy sites. This book offers new insights into how traditional Tibetan holy sites attract both Tibetan pilgrims and secular Chinese in an intriguing and harmonious way. [Verlagsinformation]
Inhalt
Acknowledgements. ix
List of Illustrations. xi
René Gothóni: Introduction. 1
PART 1: THEORETICAL ASPECTS OF PILGRIMAGE STUDIES
1. René Gothóni: Pilgrimage: Three Theoretical Interpretations. 11
2. Simon Coleman: Pilgrimage and the Blessings of Place-making: Reflections on and beyond the Anthropology of Pilgrimage. 31
3. Jakob Christensson: In Search of Learning and Holiness: Scandinavians Going Abroad from the Middle Ages to the Present. 53
4. Mari-Johanna Rahkala: In the Sphere of the Holy: Pilgrimage to a Contemporary Greek Convent. 69
PART 2: CASE STUDIES OF BUDDHIST AND HINDU SITES
5. Alexandre I. Andreyev: St Petersburg Datsan: The Northernmost Buddhist Temple in Europe. 99
6. Klaus Karttunen: Pilgrimage as Business in Traditional India. 127
7. Riikka Uuksulainen: Pouring Water on Siva: The Case of Tarakeswar Pilgrims. 149
8. Michael Pye: The Way is the Goal: Buddhist Circulatory Pilgrimage in Japan with Special Reference to Selected Artefacts. 163
9. Wuqi Chenaktsang: Traditional Tibetan Pilgrimage and the Eight Holy Sites of Rebgong. 183
10. Juha A. Janhunen: A Dead Man's Pilgrimage: The Legend of the Wutun People in Amdo. 205
11. Juha Komppa: Tourism, Pilgrimage and the Fluidity of Material Culture in Labrang/Xiahe. 219
12. Lhundrub Dorji: Tibetan Buddhist Nuns: Damcho Pema's Prostrating Pilgrimage to Lhasa. 259
13. Mitra Härkönen: Some Remarks on Understanding the Motives of Tibetan Nuns. 273
Notes on Contributors. 299
Index. 303
Herausgeber
RENÉ GOTHÓNI is Professor of Comparative Religion at the University of Helsinki, a life member of Clare Hall, Cambridge, and a life member of the Finnish Society of Sciences and Letters. He is also President of the Finnish Society of Friends of Mount Athos. His publications include Attitudes and Interpretations in Comparative Religion (2000) and The Unknown Pilgrim (2006), and he edited How to do Comparative Religion (2005) and The Monastic Magnet. Roads to and from Mount Athos (with G. Speake, 2008). Faculty page.
Quellen: Peter Lang Verlag; Deutsche Nationalbibliothek; WorldCat; Amazon.