Kalamukha Temples of Karnataka
Verfasst von pw am Sa, 03/03/2012 - 14:47.
Filliozat, Vasundhara [u.a.]:
Kālāmukha Temples of Karnataka : art and cultural legacy : Somanātha at Haraḷahaḷḷi and Kaḍambeśvara at Raṭṭtihaḷḷi / Vasundhara Filliozat, Pierre-Sylvain Filliozat. - New Delhi : Indira Gandhi National Centre for the Arts ; D.K. Printworld, 2012. - xx, 657 S. : Ill.
ISBN 978-81-246-0605-6
Rs. 3000,00
EUR 91,48 (Exotic India)
US$ 120,00 (D.K. Printworld)
US$ 135,00 (Vedams)
US$ 150,30 (Bagchee)
DDC: 726.145095487
Beschreibung
The Kalamukha temples in Karnataka are associated with the Lakulashaiva movement especially the beliefs and practices of the Kalamukha Shaivites and the jakkanacari style of temples in Karnataka. This volume is a study of two of the best examples of Kalamukha shrines in the region. It focuses on the Somanatheshvara temple at Haralahalli and Kadambeshvara temple at Rattihalli, splendid examples of conversion of single-cell shrines into triple sancta. With numrous illustrations of the temples including their plans and sculptures and referring to and quoting from the Agamas, the Puranas and other ancient works, it studies the architecture of the temples along with their history, the general plans of the temples, their interior including pillars, lintel and entrances, their external structure, and their iconography, particularly the main deities in the temples. It makes a unique effort to study the inscriptions associated with the temples which are in Kannada interlaced with Sanskrit verses and containing Sanskrit words, presenting their Roman transliteration and translation into English. The inscriptions include one on renovation of Someshvara temple by King Joma (ce 1181), one on the foundation of a temple of Daseshvara laid by Dasiraja (ce 1188) and one that eulogises the Kadambas and minister Soma (ce 1144). [Verlagsinformation]
Inhalt
Preface / Advaitavadini Kaul. v
Acknowledgements. xiii
List of Illustrations. xvi
Introduction. 1
Situation. 2
The Dedication to Sadashiva. 3
The Trikuta Temple. 5
The Mythology of Sadashiva's Manifestations. 12
A Note on the Dance Pose of Natesha at Haralahalli and Rattihalli. 15
1. History of Lakulashaiva Movement and Jakkanacari Style of Temples in Karnataka. 29
The Advent of Lakulashaivism in Karnataka. 30
The Glory of the Pashupatavrata. 47
Mystic Diagram and Installation of Gods. 52
Kalamukha Shaivites of Lakulashaiva Community. 56
History of the Kittagavi Santati. 67
The Gutta Chieftains of Guttavolal. 71
Socio-Politico-Religious Conditions. 74
History of the Two Feudatory Families: The Gutta of Guttavolal and the Kadamba of Rattihalli. 88
2. The Temple of Somanatha at Haralahalli. 99
Architecture. 99
Iconography. 117
Epigraphy. 136
3. The Temple of Kadambeshvara at Rattihalli. 345
Architecture. 345
Iconography. 358
Epigraphy. 395
Figures and Plates. 525
Select Bibliography and Abbreviations. 645
Index. 649
Autoren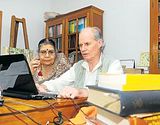 VASUNDHARA FILLIOZAT, Daughter of Pandit Chennabasavappa Kavali, born in Haveri, Karnataka, south India, brought up in an environment soaked in Sanskrit and Kannada culture, is a historian of art and an epigraphist. She works alternatively in India to explore the archaeological and literary past of her country and in France to encourage knowledge and appreciation of the Indian civilisation, still insufficiently known in the West. Her works on Hampi-Vijayanagara have been acknowledged in 2003, when she was honoured with the Award of the Government of Karnataka. She has been elected President of the 22nd Congress of the Karnataka History Academy. She has published about twenty books and numerous articles in Kannada, English and French.
PIERRE-SYLVAIN FILLIOZAT, born in 1936 in France, is Professor of Sanskrit (emeritus) and Member of the Académie des Inscriptions et Belles-Lettres in Paris. He conducts research in several fields of Indology, Sanskrit grammar (Vyakarana), poetry and poetics, Tantra, especially the Sanskrit literature of Shaivasiddhanta school, history of Indian architecture and temples. He has published books and articles in French, English and Sanskrit on Panini's grammar, Patanjali's Mahabhasya, Shaivagamas, temple architecture in Hampi, etc. Profile page: Académie des Inscriptions et Belles-Lettres.
Quellen: D.K. Printworld; Vedams; Bagchee; Exotic India; WorldCat