Temples of the Indus
Verfasst von pw am Mi, 10/27/2010 - 21:51.
Meister, Michael W.:
Temples of the Indus : studies in the Hindu architecture of ancient Pakistan / by Michael W. Meister. - Leiden [u.a.] : Brill, 2010. - xv, 85 S., [43] Bl. : zahlr. Ill., Kt. - (Brill's Indological library ; 35)
ISBN 978-90-04-18617-0 / 90-04-18617-4
EUR 93,00 / US$ 132,00
DDC: 726.1450934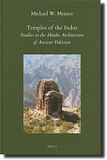 Beschreibung
In Pakistan's northwest, a sequence of temples built between the sixth and the tenth centuries provides a missing chapter in the evolution of the Hindu temple in South Asia. Combining some elements from Buddhist architecture in Gandharā with the symbolically powerful curvilinear Nāgara tower formulated in the early post-Gupta period, this group stands as an independent school of that pan-Indic form, offering new evidence for its creation and original variations in the four centuries of its existence. Drawing on recent archaeology undertaken by the Pakistan Heritage Society as well as scholarship from the Encyclopaedia of Indian Temple Architecture project, this volume finally allows the Salt Range and Indus temples to be integrated with the greater South Asian tradition. [Verlagsinformation]
Inhalt
Acknowledgments
List of Illustrations
1. Salt Range and Indus Temples. 1
2. Sites, History, and Comparative Chronology. 11
3. Archaeology at Kafirkot and Problems of Platform Extensions. 39
4. Original Variations in Tenth-Century Architecture. 51
5. Archaeology and Ethnography. 63
Bibliography. 73
Glossary of Architectural Terms. 79
Index. 83
Autor
MICHAEL W. MEISTER, Ph.D. (1974) in Fine Arts, is W. Norman Brown Professor of South Asian Studies, University of Pennsylvania. He has been general editor of the Encyclopaedia of Indian Temple Architecture (Delhi: 1983–92), Discourses on Śiva (Philadelphia: 1984), and co-author of Desert Temples (Jaipur: 2008). Homepage. Faculty profile.
Quellen: Brill; Amazon; WorldCat; Library of Congress