Kirtana
Verfasst von pw am Do, 10/13/2011 - 10:46.
Nijenhuis, Emmie te [Hrsg.]:
Kirtana: traditional South Indian devotional songs : compositions of Tyāgarāja, Muttusvāmi Dīkṣitar and Śyāma Śāstri / recorded and ed. in staff notation by Emmie te Nijenhuis. - Leiden [u.a.] : Brill, 2011. - VI, 302 S. : überw. Notenbeispiele + 1 CD. - (Handbook of Oriental Studies : Section 2, South Asia ; 26)
ISBN 978-90-04-20933-6
EUR 110,00 / US$ 151,00
DDC: 780.9548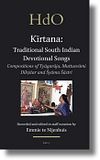 Beschreibung
At the beginning of the nineteenth century South Indian composers were still influenced by traditional religious concepts such as: temple rituals, pilgrimage and personal devotion. Tyāgarāja, Muttusvāmi Dīkṣitar and Śyāma Śāstri, the three prominent composers from the Tanjore district, used the kīrtana, a congregational song in praise of a deity, as a standard musical form. The compositions selected from the works of these composers show the various aspects of Hindu devotionalism. The detailed Western music notation of the editor, based on actual performances, will help the music student to understand the characteristic ornate South Indian melodic style. The introductory chapters contain general cultural information, biographical details as well as the original song texts with an English translation. With a unique CD containing all the kīrtana compositions. [Verlagsinformation]
Inhalt
Preface. vii
Performers. viii
List of Plates. ix
Introduction: Musical Form in South India. 1
1. Tyāgarāja. 6
2. Muttusvāmi Dīkṣitar. 20
3. Śyāma Śāstri and Subbarāya Śāstri. 46
4. The Role of the Vīṇā in South Indian Music. 61
Appendices. 67
Bibliography. 73
Music Notation of the Compositions. 76
Key to the Music Notation. 300
Contents of the Audio CD. 301
Autorin
EMMIE TE NIJENHUIS, Ph.D. (1970) in Musicology, Utrecht University, edited and translated Sanskrit texts on Indian musicology (Saṅgītaśiromaṇi: A Medieval Handbook of Indian Music. Edited with Introduction and Translation, Brill, 1982) and conducted research on the performance practice of South Indian Music (Varṇam. Selected Concert Studies for the South Indian Lute, Naarden, 2001).
Quellen: Brill; WorldCat; Amazon (UK)