Heavenly Himalayas
Verfasst von pw am So, 11/14/2010 - 12:43.
Ham, Peter van:
Heavenly Himalayas : the Murals of Mangyu and Other Discoveries in Ladakh / Peter van Ham. With contributions by Rob Linrothe, Gerald Kosicz and Amy Heller. Foreword by His Eminence, Raja Jigmed Wangchuk Namgyal, King of Ladakh. - Munich ; Berlin ; London ; New York : Prestel, 2010. - 176 S. : Ill., Kt.
ISBN 978-3-7913-4543-7
EUR 59,00
DDC: 726.14309546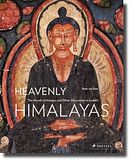 Beschreibung
Bis zum 13. Jahrhundert war das indische Kaschmir mit seiner blühenden buddhistischen Kultur das entscheidende Zentrum für die geistige und künstlerische Inspiration Tibets. Doch nur wenige, weit abgelegene Tempel sind aus jener Zeit erhalten geblieben. Die faszinierende Anlage von Mangyu ist eine der bislang weitgehend unbekannten Stätten, deren Wandmalereien, Schreine und Kapellen nicht nur Aufschluss über den späten Mahayana-Buddhismus in Indien geben, sondern auch einen wertvollen Beitrag zum Verständnis der Entwicklung des frühen tibetischen Vajrayana-Buddhismus leisten. [Peter van Ham]
Inhalt
Foreword / His Eminence Raja Jigmed Wangchuk Namgyal, King of Ladakh. 10
Introduction and Acknowledgements: Forgotten, Misjudged and Unknown Gems. 12
The Ways of Buddhism to Ladakh, or: the "Mon Problem". 16
THE SANCTUARIES OF MANGYU
- The Inscriptions / Amy Heller. 34
- The Entrance Stūpa. 36
- The Western Tower of the Future Buddha, Maitreya Tower I. 42
- The Western Temple of the Supreme Buddha, Vairocana Temple I. 56
- The Eastern Temple of the Supreme Buddha, Vairocana Temple II. 98
- The Eastern Tower of the Future Buddha, Maitreya Tower II / Rob Linrothe. 124
- The Village Stūpa. 138
Dating the Mangyu Style / Rob Linrothe. 158
Why the Axis does not Conform to the Centre: Mangyu's Maṇḍala-derived Architecture / Gerald Kozicz. 162
Annotations. 167
Bibliography. 172
Autor
PETER VAN HAM has been travelling the Himalayas for the past 25 years. One of his main focuses is the exploration of early Tibetan cultural sites, which has been supported by the UNESCO and the Dalai Lama, and about which he has published four books so far. In addition, he has supplied scientific advice for documentaries and curated an important international exhibition about the Western Himalayas, which is currently being shown in various European museums. He is a Fellow of the Royal Asiatic and Geographical Societies, London, as well as the Explorers Club, New York. Homepage.
Quellen: Prestel / Random House; Deutsche Nationalbibliothek; Buchhandel.de; Amazon (Deutschland)