Anthropology of Values
Verfasst von pw am Fr, 07/23/2010 - 10:03.
Berger, Peter [u.a.] (Hrsg.):
The Anthropology of Values : essays in honour of Georg Pfeffer / ed. by Peter Berger, Roland Hardenberg, Ellen Kattner, Michael Prager. Managing ed.: Ellen Kattner. - Delhi [u.a.] : Pearson Longman, 2010. - liv, 501 S. : Ill.
ISBN 978-81-317-2820-8
Rs. 850,00
US$ 53,70 (K.K. Agencies)
DDC: 305.8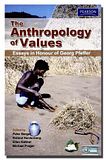 Beschreibung
This collection of essays addresses the notion of 'value' from a comparative and multi-disciplinary perspective, and aims at further stimulating contemporary theoretical and methodological discussions on the study of 'values'. The contributors analyse systems of symbolic and social classification, ritual performances, gift exchanges, local conceptualizations of the person, gender identity, indigenous political systems, and the interplay between local rituals and modern politics. In each paper, the question is raised as to whether specific cultural value configurations can be discerned from the cases discussed. The regional areas covered range from classical Greek society to the modern South Korean, from Afro-American communities in New York to North American Indians, from South Asia and the Indian Ocean to Mainland and Island Southeast Asia.
The book is dedicated to Georg Pfeffer, former head of the Department of Social Anthropology at the Free University of Berlin, whose lifelong work on Indian value systems was a source of inspiration to all authors of this joint volume. It was further inspired by the intellectual legacy of the French anthropologist Louis Dumont, who introduced a series of key concepts to modern anthropology, such as 'idea-value', 'hierarchy as the encompassment of the contrary', 'contexts' and 'levels', and 'holistic' versus 'individualistic' ideologies. This joint volume demonstrates that these key concepts became influential not only in France but also among scholars from India, England, the United States, Germany, and the Netherlands. It moreover shows that theoretical debates about the notion of 'value' and 'hierarchy' are no longer focussed on India alone, but have been applied and further refined with reference to other world regions as well. [Verlagsinformation]
Inhalt
List of Figures and Tables. x
System of Kinship Notations. xii
Acknowledgements. xiii
Introduction: The Anthropology of Values / P. Berger, R. Hardenberg, E. Kattner, and M. Prager. xv
Select Works of Georg Pfeffer: A Comprehensive Bibliography / Compiled by B. Schiller and G. Beckmann. xxxiv
A Conversation on 'Values' with Georg Pfeffer / P. Berger and R. Hardenberg. xxxix
PART I: KINSHIP, GENDER, AND CLASSIFICATION
1. Siblingship as a Value in Middle India / Christopher A. Gregory. 3
2. Gifts at Marriage in the Muslim Punjab / Anjum Alvi. 19
3. Parents and Children in the Pakistani Punjabi Family: A Case of Marriage and Inheritance / Azam Chaudhary. 33
4. The Continuity of Life: Food, Gender, and Kinship in Azerbaijan / Ingrid Pfluger-Schindlbeck. 49
5. The Distinction of Sex and Generation in Gawigl Relationship Terminology: An Exercise / Almut Schneider. 59
6. Symbolic Classification in Northwest Coast Art / Abraham Rosman and Paula G. Rubel. 77
PART II: DEBATING CASTE AND TRIBE
7. A Reconsideration of Hinduization and the Caste–Tribe Continuum Model / Roland Hardenberg. 89
8. The Priest and the Village Headman: Dual Sovereignty in the Nilgiri Hills / Frank Heidemann. 104
9. Conviviality and Periphery: The Social Life of Industrial Workers in South Orissa / Christian Strümpell. 120
PART III: HOLISM, INDIVIDUALISM, AND THE MAKING OF THE PERSON
10. The Concept of Bibā Among the Ronā of Highland Orissa: Wedding Rituals to Ensure Health / Tina Otten. 143
11. Seven Men, Six Women: Names and the Socio-cosmic Order of Maliku (Minicoy Island) / Ellen Kattner. 162
12. Becoming a Lao Person: Rituals of Birth and Socialization in Luang Prabang, Laos / Jos. D. M. Platenkamp. 180
13. Society Encompassing the Moral Man, or the Moral Man Encompassing Society?: Some Reflections on Korea / Inge Roesch-Rhomberg. 201
14. Erotics and Politics in the Agenda of an Interracial (Black and White) Gay Men's Association in New York / Moshe Shokeid. 215
15. Reading Tracks / Jeanne Berrenberg. 235
PART IV: RITUAL, SACRIFICE, AND PILGRIMAGE
16. From the Brāhmaṇas to Nuer Religion: One Strand in Studies of Sacrifice / Nicholas J. Allen. 249
17. 'Who Are You, Brother and Sister?': The Theme of 'Own' and 'Other' in the Go'ter Ritual of the Gadaba / Peter Berger. 260
18. The Go'ter Ritual of the Gadabas According to Duaru from Tikrapada (1965): A Gutob Text Translated / Arlo Griffiths. 288
19. Death and the Death Rites: The Practice of Double Burial Among the Kunhu-speaking People of Northwest Orissa / Deepak Kumar Behera. 294
20. Rituals of First Menstruation in South India: A Comparison / Gabriele Alex. 317
21. The Pilgrimage to Shatrunjaya: Refining Shvetambara Identity / Andrea Luithle-Hardenberg. 331
22. Navratri Celebrations in Kacchch in the 1990s / Helene Basu. 361
PART V: MYTH AND HISTORY
23. Northerners in South India and Ceylon / Harry Falk. 385
24. Yayati Kesari Revisited: Ramachandra of Khurda and the Yayati Kesari Legend of Puri / Hermann Kulke. 400
25. The Thighs of Lord Jagannath: Notes on the Jangha Bardeo Cult of the Gond of Western Orissa / Uwe Skoda. 412
26. Tales of a Tank: The Siddh Sagar in Mandi / Elisabeth Conzelmann. 433
27. The Appropriation of the 'Stranger King': Polarity and Mediation in the Dynastic Myth of Bima / Michael Prager. 447
28. Clytemnestra and Penelope in the Odyssey / Hartmut Zinser. 471
About the Editors and the Contributors. 481
Index. 489
Herausgeber
PETER BERGER teaches Indian religions and the anthropology of religion at the University of Groningen, in the Netherlands. He studied social and cultural anthropology at the Free University of Berlin, where he obtained his Ph.D. and also worked as a lecturer and research assistant. He conducted his research on tribal highland Orissa (India) with a focus on social structure, rituals and food. Profile page.
ROLAND HARDENBERG is Head of the Department of Ethnology and Cultural Anthropology at the University of Tuebingen, Germany. He received his Ph.D. from the Free University of Berlin with a thesis dealing with the renewal (nabakalebara) of the deities of the Jagannatha temple. His post-doctoral thesis was entitled Children of the Orissa Goddess: Society, Sacrifice and Marriage in the Highlands of Orissa. Presently, he is working on a research project dealing with funeral sites and practices in post-socialist Kyrgyzstan. Profile page.
ELLEN KATTNER studied anthropology, history, indology and prehistory at the universities of Heidelberg and Madras. She worked as research assistant at the South Asia Institute, Heidelberg, and as research associate with the late Karl Jettmar at the Heidelberg Academy of Sciences and Humanities. She did her field research among the Cutchi Memon of South India; on Minicoy (Maliku) Island, Union Territory of Lakshadweep; and on German society.
MICHAEL PRAGER is lecturer of anthropology at the University of Leipzig. He studied anthropology at Leiden University and the University of Heidelberg, where he obtained his Ph.D. in 1996, after which he taught at the Institute of Ethnology of the University of Muenster, Germany. He conducted field research in Indonesia, most recently in the Bima Regency of Sumbawa Island. His areas of interest include Southeast Asian Islam, kinship, ritual, cosmology and the anthropology of the body. Profile page.
Quellen: Pearson India; WorldCat; Google Books; K.K. Agencies