Nepalese Legacy in Tibetan Painting
Verfasst von pw am Do, 10/14/2010 - 07:48.
Jackson, David Paul:
The Nepalese legacy in Tibetan painting : from early Beri to Ngor / by David P. Jackson. - New York : Rubin Museum of Art (distr. by University of Washington Press), 2010. - 288 S. : zahlr. Ill. - (Masterworks of Tibetan painting series ; 2)
ISBN 978-0-9772131-8-4 (Hardcover)
US$ 75,00
DDC: 759.9515
-- Angekündigt für September 2010 --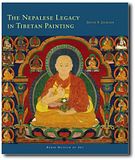 Beschreibung
The Newar painting style (Beri) in Tibet, which originated in Nepal, is the most recent of two early Indian-inspired painting styles to take hold in Tibet. The style flourished in Tibet for about four centuries, from the late 12th to the early 17th century. Alone among styles, it was adopted universally across Tibet for a century at its height (1360-1460). Later in its development, some of the best-known thangkas in this style were commissioned by abbots of Ngor Monastery, an important Sakyapa monastery in Tsang Province.
Most previous scholars linked the paintings in this style exclusively with the Sakyapa religious school and Tsang Province, if not with the monastery of Ngor. In addition to exploring the powerful aesthetic appeal of the Beri style, one of the main goals of this publication is to overcome the erroneous limiting of the style to the Sakyapa and to demonstrate its full historical and religious extent. Another main goal is to introduce a method for analyzing structure and lineages in Tibetan paintings. [University of Washington Press]
Katalog zur gleichnamigen Austellung im Rubin Museum of Art, New York, vom 3. Sept. 2010 bis zum 23 Mai 2011 (siehe die Ausstellungsankündigung).
Aus dem Inhalt
- Introduction. A stylistic overview
- Basic principles of structure
- Lineage and structure
- Previous research on the Beri style
- Connections with Sakya, real and imagined
- Stylistic features of the Beri
- Early Newar-inspired painting
- The Beri as a universal style
- Ngor and its Beri paintings.
Autor
DAVID P. JACKSON is the author of Patron and Painter: Situ Panchen and the Revival of the Encampment Style and A History of Tibetan Painting. He is curator of the Rubin Museum of Art's reconstruction of Tibetan art history. Formerly professor of Tibetan at Hamburg University, he lives on Whidbey Island, Washington.
Quellen: University of Washington Press; Library of Congress; Amazon; WorldCat