Pilgrimage and Buddhist Art
Verfasst von pw am Mi, 04/07/2010 - 20:58.
Proser, Adriana (Hrsg.):
Pilgrimage and Buddhist Art / ed. by Adriana Proser; With essays by Susan Beningson, Janice Leoshko, D. Max Moerman, Katherine Paul, Ian Reader, Robert Stoddard, Donald Swearer, and Chün-fang Yü. - New Haven : Yale University Press, 2010. - 211 S. : zahlr. Ill.
ISBN 978-0-300-15566-2 / 0-300-15566-2
US$ 65,00
DDC: 704.9/489430747471
-- Angekündigt für März 2010 --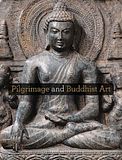 Beschreibung
According to sacred texts, the historical Buddha encouraged his disciples to make pilgrimages to sites associated with his life. As sacred images of the Buddha proliferated over time, it is said that his relics were divided among 84,000 South Asian sites of Buddhist worship, or stupas. This abundance of sacred sites in turn rendered pilgrimage and worship increasingly prominent influences on Asian culture and daily life.
Pilgrimage and Buddhist Art employs sacred objects, textiles, sculpture, manuscripts, and paintings to discuss the relationship between Buddhist pilgrimage and Asia's artistic production. Accompanying an exhibition of approximately 90 extraordinary objects, many of which have never before been displayed publicly, this book addresses the process of the sacred journey in its entirety, including discussion of pilgrimage motivation, ritual preparation, and worship at the sacred destination. Exceptional and visually stunning examples of painted mandalas, reliquaries, prayer wheels, and traveling shrines demonstrate that pilgrims and pilgrimage inspired centuries of artistic production and shaped the development of visual culture in Asia. [Verlagsinformation]
Begleitband zu einer Ausstellung im Asia Society Museum (New York) vom 16. März bis 20. Juni 2010.
Herausgeberin
ADRIANA PROSER is the John H. Foster Curator of Traditional Asian Art at Asia Society Museum, New York.
Quellen: Yale University Press; WorldCat; Amazon; Library of Congress