Raja Ravi Varma
Verfasst von pw am Mo, 07/19/2010 - 20:16.
Chawla, Rupika:
Raja Ravi Varma : Painter of Colonial India / Rupika Chawla. - Ahmedabad : Mapin, 2010. - 360 S. : Ill., Kt.
In den USA erschienen bei: Ocean City, NJ : Grantha Corporation, 2010
ISBN 978-81-89995-08-9 (Mapin)
ISBN 978-0-944142-41-7 (Grantha)
Rs. 3950,00 / US$ 75,00 / UK£ 45,00
US$ 160,00 (inkl. Airmail) (Vedams Books)
US$ 197,50 (K.K. Agencies)
US$ 198,00 (Bagchee)
DDC: 759.954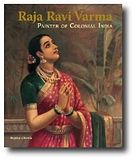 Beschreibung
Ravi Varma (1848–1906) was closely connected with the erstwhile royal house of Travancore. He was one of the first Indian painters to successfully adopt Western painting techniques and adapt academic realism to the visual interpretation of Indian mythology. His genre of paintings, which eventually lead to chromolithographs (oleographs), has maintained a lasting effect on the Indian sensibility, making him the best-known classical painter of the modern era.
This book is an account of Ravi Varma's traditional background and environment and the manner in which they related to the modernization of colonial India; his profession as an aristocratic itinerant painter, his royal patrons, his portraits and the analysis of his mythological and iconic paintings; his influence on the Indian mindset, the sources used by him and his controversial status from the late 19th century till today even while contemporary painters continue to be inspired by his art and his attitude. The book is lavishly illustrated with pictures taken from princely and private collections and museums. These also appear in the book among the works that have never been seen before, previously undisclosed maps, letters, photographs and other archival material. [Verlagsinformation]
Inhalt
Author's Note
1. Private lives and the turn of the century
2. The itinerant Varma brothers
3. Cities and states
4. Exploring the source
5. Themes and preoccupations
6. The image moves on
7. A century looks back
8. Painting the canvas
Notes
Index.
Autorin
RUPIKA CHAWLA is a conservator of paintings who has restored several Ravi Varma art works and also imparts training in conservation. She has written extensively on contemporary Indian art and maintained a column in the Indian Express from 2001 to 2004.
Quellen: Mapin; WorldCat; Eastern Book Corp.; Vedams Books; Bagchee; K. K. Agencies