Melodrama and the Nation
Verfasst von pw am Mo, 06/28/2010 - 18:26.
Gabriel, Karen:
Melodrama and the nation : sexual economies of Bombay cinema, 1970-2000 / Karen Gabriel. - New Delhi : Women Unlimited, 2010. - XLII, 392 S. : Ill.
ISBN 978-81-88965-49-6
Rs. 550,00
US$ 12,22 (Eastern Book Corp.)
US$ 41,20 (K.K. Agencies)
DDC: 791.430820954792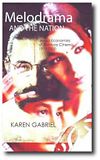 Inhalt
Acknowledgements
Introduction
1. Political History, Political Economy
2. Bombay Cinema and Questions of Form
3. Towards a Theory of the Sexual Economy
4. Femininity and the Regulation of Pleasure and Desire
5. The Changing Faces of Masculinity
6. Gender, Sexuality and Nation
7. Communities and their Others
8. Wounded Identities
List of Films
Bibliography
Autorin
KAREN GABRIEL is associate professor in the Department of English, St. Stephen's College, University of Delhi.
Quellen: K.K. Agencies; Eastern Book Corp.; WorldCat