South Asian Media Cultures
Verfasst von pw am So, 04/18/2010 - 20:00.
Banaji, Shakuntala (Hrsg.):
South Asian media cultures : audiences, representations, contexts / ed. by Shakuntala Banaji. - London ; New York, NY : Anthem Press, 2010. - ca. 320 S. - (Anthem South Asian Studies)
ISBN 978-1-84331-842-2 (Hardcover)
US$ 99,00 (Amazon)
ISBN 978-0-85728-954-4 (eBook)
DDC: 302.230954
-- Angekündigt für April 2010 --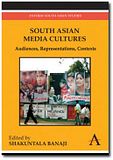 Beschreibung
South Asian Media Cultures examines a wide range of media cultures and practices from across South Asia, using a common set of historical, political and theoretical engagements. In the context of such pressing issues as peace, conflict, democracy, politics, religion, class, ethnicity and gender, these essays explore the ways different groups of South Asians produce, understand and critique the media available to them.
Inhalt
List of illustrations. ix
1. Introduction / Shakuntala Banaji. 1
I. ELABORATING AUDIENCES: MEANING, USE AND SOCIAL CONTEXT. 27
2. Talking back to "Bollywood": Hindi commercial cinema in North-East India / Daisy Hasan. 29
3. Adverts make me want to break the television: Indian Children and their audiovisual media environment in three contrasting locations / Shakuntala Banaji. 51
4. Urdu for image: Understanding Bangladeshi cinema through its theatres / Lotte Hoek. 73
5. Musical media and cosmopolitanisms in Nepal's popular music, 1950-2006 / Paul Greene. 91
II. TELLING TEXTS: MEDIA DISCOURSE, IDENTITY AND POLITICS. 107
6. Private satellite media and the geo-politics of moderation in Pakistan / Tahir H. Naqvi. 109
7. Forgetting to remember: the privatisation of the public, the economisation of Hindutva, and the medialisation of genocide / Britta Ohm. 123
8. Myth - the national form: Mission Istanbul and Muslim representation in Hindi popular cinema / Noorel Mecklai. 145
9. A peace of soap: Representations of peace and conflict in popular teledramas in Sri Lanka / Neluka Silva. 163
10. Destigmatising star texts - honor and shame amoung Muslim women in Pakistani cinema / Irna Qureshi. 181
III. ALTERNATIVE PRODUCERS: THE ARTICULATION OF (NEW) MEDIA, POLITICS AND CIVIC PARTICIPATION. 199
11. Through the lens of a branded criminal: the politics of marginal cinema in India / Rashmi Sawhney. 201
12. Pakistani students' uses of new media to construct a narrative of dissent / Saman Talib. 221
13. Expanding the art of the possible: Leveraging citizen journalism and User Generated Content (USG) for peace in Sri Lanka / Sanjana Hattotuwa. 235
14. Conclusion / Shakuntala Banaji. 255
List of contributors. 263
Herausgeberin
SHAKUNTALA BANAJI is currently a researcher and lecturer for the Centre for the Study of Children, Youth and Media at the Institute of Education, University of London. Profile page. Fellow in Media and Communication, London School of Economics, profile page.
Quellen: Anthem Press; WorldCat; Library of Congress; Amazon (Deutschland); Google Books.