Buddhist Philosophy of Language in India
Verfasst von pw am Fr, 10/15/2010 - 21:33.
McCrea, Lawrence J. [u.a.]:
Buddhist philosophy of language in India : Jñānaśrīmitra on exclusion / Lawrence J. McCrea and Parimal G. Patil. - New York : Columbia University Press, 2010. - 216 S.
Darin enthalten: Jñānaśrīmitra: Apohaprakaraṇa <Sanskrit, engl.>
ISBN 978-0-231-15094-1 (cloth)
US$ 82,50 / £ 57,00
ISBN 978-0-231-15095-8 (pbk.)
US$ 27,50 / £ 19,00
DDC: 181.043; 121.680882943
-- Angekündigt für Oktober 2010 --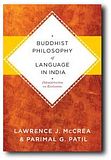 Beschreibung
Jñānaśrīmitra (975-1025) was regarded by both Buddhists and non-Buddhists as the most important Indian philosopher of his generation. His theory of exclusion combined a philosophy of language with a theory of conceptual content to explore the nature of words and thought. Jnanasrimitra's theory informed much of the work accomplished at Vikramasila, a monastic and educational complex instrumental to the growth of Buddhism. His ideas were also passionately debated among successive Hindu and Jain philosophers.
This volume marks the first English translation of Jñānaśrīmitra's Monograph on Exclusion, a careful, critical investigation into language, perception, and conceptual awareness. Featuring the rival arguments of Buddhist and Hindu intellectuals, among other thinkers, the Monograph reflects more than half a millennium of competing claims while providing an invaluable introduction to a crucial philosopher. Lawrence J. McCrea and Parimal G. Patil familiarize the reader with the author, themes, and topics of the text and situate Jñānaśrīmitra's findings within his larger intellectual milieu. Their clear, accessible, and accurate translation proves the influence of Jñānaśrīmitra on the foundations of Buddhist and Indian philosophy. [Verlagsinformation]
Vincent Eltschinger. Review of McCrea, Lawrence J., and Parimal G. Patil, Buddhist Philosophy of Language in India: Jnanasrimitra on Exclusion. H-Buddhism, H-Net Reviews. April, 2012. URL: https://www.h-net.org/reviews/showrev.php?id=31656
Inhalt
Preface. ix
Introduction
1. Jñānaśrīmitra's Intellectual World and Its History. 1
- Jñānaśrīmitra's Intellectual Contexts. 2
- Philosophical Traditions and Text Traditions. 3
- Sanskrit Intellectual Practices. 6
- Sources of Knowledge. 7
2. The Buddhist Epistemological Tradition: Dignāga and Dharmakīrti. 9
- Objects and Their Status. 14
- The Elements of Inferential Reasoning. 15
3. Dharmottara's Epistemological Revolution. 16
4. Jñānaśrīmitra's Reworking of the Theory of Exclusion. 20
- Relativization of Internal and External. 24
- Conditionally Adopted Positions. 26
5. Translation Practices. 34
- Editorial Conventions. 40
- Numbering System. 41
Jñānaśrīmitra's Monograph on Exclusion. 43
Outline. 43
Translation. 49
Sanskrit Text of the Monograph on Exclusion. 99
Abbreviations. 129
Notes. 133
Bibliography. 179
Index. 197
Autoren
LAWRENCE J. MCCREA is assistant professor of Sanskrit Studies at Cornell University and the author of The Teleology of Poetics in Medieval Kashmir. Faculty profile.
PARIMAL G. PATIL is John L. Loeb Associate Professor of the Humanities at Harvard University and author of Against a Hindu God: Buddhist Philosophy of Religion in India. Faculty page. Curriculum vitae (PDF-Datei).
Quellen: Columbia University Press; Library of Congress; WorldCat; Amazon