Logic in Earliest Classical India
Verfasst von pw am Do, 02/11/2010 - 15:55.
Gillon, Brandon S. (Hrsg.):
Logic in Earliest Classical India / ed. by Brendan S. Gillon. - Delhi : Motilal Banarsidass, 2010. - viii, 202 S. : Ill. - (Papers of the 12th World Sanskrit Conference ; 10,2)
ISBN 978-81-208-3449-1
Rs. 750,00
US$ 17,44 (Motilal Banarsidass)
DDC: 181.43; 160.954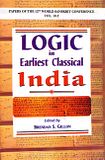 Beschreibung
The last two decades of Indological research have led to a marked increase in the investigation of logic in India, especially in the earliest period of classical India. A panel of senior and junior scholars from America, Asia, and Europe, all specialists working in this area, was concerned at the 12th World Sanskrit Conference, held in Helsinki in the summer of 2003. This volume contains not only their papers, which address both philosophical and philological matters pertaining to logic as propounded in texts from this period, but also an introduction designed to permit non-specialists, whether non-Indologists or non-philosophers, to learn about Indian logic in its infancy. [Motilal Banarsidass]
Inhalt
1. Brendan S. Gillon: The Development of Logic in Early Classical India
2. Karin Preisendanz: Reasoning as a Science, its Role in Early Dharma. Literature, and the Emergence of the Term nyāya
3. Ernst Prets: On the Proof Passage of the Carakasaṃhitā: Editions, Manuscripts and Commentaries
4. Birgit Kellner: The Logical Reason Called virodhin in Vaiśeṣika and Its Significance for Connection-based Theories of Reasoning
5. Eli Franco: The Discussion of pramāṇas in the Spitzer Manuscript
6. Chizuko Yoshimizu: The Logic of the Saṃdhinirmocanasūtra: Establishing Right Reasoning Based on Similarity (sārūpya) and Dissimilarity (vairūpya)
7. Brendan S. Gillon: Obversion and Contraposition in the Nyāyabhāṣya
8. Akihiko Akamatsu: Anumāna in Bhartṛhari's Vākyapadīya
Herausgeber


BRANDON S. GILLON, Associate Professor, Department of Linguistics, McGill University, Montreal. Homepage.
Quellen: Motilal Banarsidass; Mailing-Liste "Indology", 11. Febr. 2010; WorldCat.