Bollywood and Globalization
Verfasst von pw am Sa, 01/16/2010 - 14:06.
Mehta, Rini Bhattacharya [u.a.] (Hrsg.)
Bollywood and Globalization : Indian Popular Cinema, Nation, and Diaspora / ed. by Rini Bhattacharya Mehta and Rajeshwari V. Pandharipande. - London ; New York ; Delhi : Anthem Press, 2010. - ca. 210 S. - (Anthem South Asian Studies)
ISBN 978-1-84331-833-0 (Hardcover)
ISBN 978-1-84331-889-7 (eBook)
£ 60,00 / US$ 99,00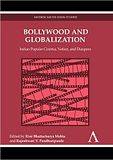 Beschreibung
Commercial cinema has always been one of the biggest indigenous industries in India, and remains so in the post-globalization era, when Indian economy has entered a new phase of global participation, liberalization and expansion. Issues of community, gender, society, social and economic justice, bourgeois-liberal individualism, secular nationhood and ethnic identity are nowhere more explored in the Indian cultural mainstream than in commercial cinema. As Indian economy and policy have gone through a sea-change after the end of the Cold War and the commencement of the Global Capital, the largest cultural industry has followed suit. This book is a significant addition to the study of post-Global Indian culture. The articles represent a variety of theoretical and pedagogical approaches, and the collection will be appreciated by beginners and scholars alike.
Inhalt
Acknowledgements. vii
Notes on Contributors. ix
1. Rini Bhattacharya Mehta: Bollywood, Nation, Globalization: An incomplete Introduction. 1
2. Sangita Gopal: Sentimental Symptoms: the Films of Karan Johar and Bombay Cinema. 15
3. Anjali Gera Roy: Is everybody saying "Shava Shava" to Bollywood Bhangra? 35
4. Purna Chowdhury: Bollywood Babes: Body and Female Desire in the Bombay Films since the Nineties and Darr, Mohra and Aitraaz: a Tropic Discourse. 51
5. Gautam Basu Thakur: Globalization and the Cultural Imaginary: Constructions of Subjectivity: Freedom & Enjoyment in Popular Indian Cinema. 75
6. Manisha Basu: Rang de Basanti: the Solvent Brown and other Imperial Colors. 93
7. Dinah Holtzman: Between Yaars: the Queering of Dosti in Contemporary Bollywood Films. 111
8. Nandini Bhattacharya: Imagined Subjects: Law, Gender and Citizenship in Indian Cinema. 129
9. Meheli Sen: "It's all about loving your Parents": Liberalization, Hindutva and Bollywood's New Fathers. 145
Notes. 169
Select Bibliography. 195
Herausgeber
RINI BHATTACHARYA MEHTA is Visiting Assistant Professor of Comparative and World Literature at the University of Illinois, Urbana-Champaign. She has published articles on the politics of religion in nineteenth and early twentieth century Bengal and is currently working on an anthology of South Asian literature; a manuscript on nineteenth century Indian nationalism's revisiting of the Indian past; and a co-edited volume on Partition. Profile page.
RAJESHWARI PANDHARIPANDE is Professor of Linguistics, Religion, and Comparative Literature at the University of Illinois, Urbana-Champaign, and has written several books, including a collection of her original Hindi poems and more than sixty research articles and chapters. Faculty profile.
Quellen: Anthem Press; WorldCat; Barnes & Noble; Amazon; Google Books