Buddhist warfare
Verfasst von pw am Fr, 01/15/2010 - 23:05.
Jerryson, Michael K. [u.a.] (Hrsg.):
Buddhist warfare / edited by Michael Jerryson and Mark Juergensmeyer. - Oxford ; New York : Oxford University Press, 2010. - xi, 257 S. : Ill.
ISBN 978-0-19-539483-2
US$ 99,00 (Hardcover)
ISBN 978-0-19-539484-9
US$ 29,95 (Paperback)
DDC: 294.337273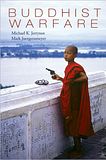 Beschreibung
Though traditionally regarded as a peaceful religion, Buddhism has a dark side. On multiple occasions over the past fifteen centuries, Buddhist leaders have sanctioned violence, and even war. The eight essays in this book focus on a variety of Buddhist traditions, from antiquity to the present, and show that Buddhist organizations have used religious images and rhetoric to support military conquest throughout history.
Buddhist soldiers in sixth century China were given the illustrious status of Bodhisattva after killing their adversaries. In seventeenth century Tibet, the Fifth Dalai Lama endorsed a Mongol ruler's killing of his rivals. And in modern-day Thailand, Buddhist soldiers carry out their duties undercover, as fully ordained monks armed with guns.
Buddhist Warfare demonstrates that the discourse on religion and violence, usually applied to Judaism, Islam, and Christianity, can no longer exclude Buddhist traditions. The book examines Buddhist military action in Tibet, China, Korea, Japan, Mongolia, Sri Lanka, and Thailand, and shows that even the most unlikely and allegedly pacifist religious traditions are susceptible to the violent tendencies of man. [Verlagsinformation]
Inhalt
Contributors. ix
Michael Jerryson: Introduction. 3
1. Paul Demieville: Buddhism and War. 17
2. Stephen Jenkins: Making Merit through Warfare according to the Ārya-Bodhisattva-gocara-upāyaviṣaya-vikurvaṇa-nirdeśa Sūtra. 59
3. Derek F. Maher: Sacralized Warfare: The Fifth Dalai Lama and the Discourse of Religious Violence. 77
4. Vesna Wallace: Legalized Violence: Punitive Measures of Buddhist Khans in Mongolia. 91
5. Brian Daizen Victoria: A Buddhological Critique of 'Soldier Zen' in Wartime Japan. 105
6. Xue Yu: Buddhists in China during the Korean War (1951-1953). 131
7. Daniel W. Kent: Onward Buddhist Soldiers: Praching to the Sri Lankan Army. 157
8. Michael Jerryson: Militarizing Buddhism: Violence in Southern Thailand. 179
Bernard Faure: Afterthoughts. 211
Appendix. 227
Bibliography. 229
Index. 241
Herausgeber
MICHAEL JERRYSON is an assistant professor of Religious Studies at Eckerd College, Florida. He is the author of Mongolian Buddhism: The Rise and Fall of the Sangha. Faculty page.
MARK JUERGENSMEYER is the director of the Orfalea Center for Global and International Studies, and a professor of Global and International Studies, Religious Studies, and Sociology at the University of California, Santa Barbara. He is the author of Terror in the Mind of God: The Global Rise of Religious Violence and editor of The Oxford Handbook of Global Religion. Faculty profile.
Quellen: Oxford University Press (USA); WorldCat; Amazon; Google Books