Religion and the Specter of the West
Verfasst von pw am Mi, 01/13/2010 - 22:51.
Mandair, Arvind-pal S.:
Religion and the specter of the West : Sikhism, India, postcoloniality, and the politics of translation / Arvind-pal S. Mandair. - New York : Columbia University Press, 2009. - xviii, 516 S. - (Insurrections : Critical Studies in Religion, Politics, and Culture)
ISBN 978-0-231-14724-8
US$ 55,00 / £ 38,00
DDC: 294.6172
Beschreibung
Arguing that intellectual movements, such as deconstruction, postsecular theory, and political theology, have different implications for cultures and societies that live with the debilitating effects of past imperialisms, Arvind Mandair unsettles the politics of knowledge construction in which the category of "religion" continues to be central. Through a case study of Sikhism, he launches an extended critique of religion as a cultural universal. At the same time, he presents a portrait of how certain aspects of Sikh tradition were reinvented as "religion" during the late nineteenth and early twentieth centuries.
India's imperial elite subtly recast Sikh tradition as a sui generis religion, which robbed its teachings of their political force. In turn, Sikhs began to define themselves as a "nation" and a "world religion" that was separate from, but parallel to, the rise of the Indian state and global Hinduism. Rather than investigate these processes in isolation from Europe, Mandair shifts the focus closer to the political history of ideas, thereby recovering part of Europe's repressed colonial memory.
Mandair rethinks the intersection of religion and the secular in discourses such as history of religions, postcolonial theory, and recent continental philosophy. Though seemingly unconnected, these discourses are shown to be linked to a philosophy of "generalized translation" that emerged as a key conceptual matrix in the colonial encounter between India and the West. In this riveting study, Mandair demonstrates how this philosophy of translation continues to influence the repetitions of religion and identity politics in the lives of South Asians, and the way the academy, state, and media have analyzed such phenomena. [Verlagsinformation]
Inhalt
Preface. xi
Acknowledgments. xvii
Introduction. 1
PART I. "INDIAN RELIGIONS" AND WESTERN THOUGHT
1. Mono-theo-lingualism: Religion, Language, and Subjectivity in Colonial North India. 45
2. Hegel and the Comparative Imaginary of the West. 106
PART II. THEOLOGY AS CULTURAL TRANSLATION
3. Sikhism and the Politics of Religion-Making. 175
4. Violence, Mysticism, and the Capture of Subjectivity. 240
PART III. POSTCOLONIAL EXITS
5. Ideologies of Sacred Sound. 313
6. Decolonizing Postsecular Theory. 379
Epilogue. 433
Glossary of Indic Terms. 437
Notes. 485
Index. 489
Autor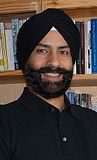 ARVIND-PAL S. MANDAIR teaches at the University of Michigan. He is a founding coeditor of the journal Sikh Formations: Religion, Culture, and Theory. Profile page.
Quelle: Columbia University Press; Amazon; WorldCat.