Edicts of King Asoka
Verfasst von pw am Mo, 01/25/2010 - 18:58.
Talim, Meena:
Edicts of King Asoka : a new vision / Meena Talim. - New Delhi : Aryan Books International, 2010. - xxxviii, 354 S.
ISBN 978-81-7305-385-6
Rs. 1850,00
US$ 40,22 (Eastern Book Corp.)
US$ 88,20 (Bagchee)
DDC: 934.045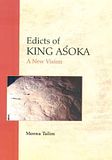 Beschreibung
King Aśoka has come to be regarded as one of the most exemplary rules in world history. His edicts, inscribed on rocks and pillars, proclaim Aśoka's reforms and policies and promulgate his advice to his subjects.
The presents book makes a pioneering attempt to provide the texts of Aśoka's edicts converted into Pali along with English translations discusses pertinent problems, viz: Dates of the edicts, why King Aśoka did eulogize Buddha? Who inscribed? For the first time all the edicts and edicts, pillar edicts, cave edicts and edicts inscribed outside India have been studied together. In addition, tables of chronology of all the edicts have been enumerated. Also provided are the maps giving the exact location of the edicts.
The present rendering of his edicts offers the reader insights into a powerful and capable ruler's attempt to establish an empire on the formulation of righteousness, reign which makes the moral and spiritual welfare of his subjects its primary concern. The volume would this provide a peep unto the life and personality of king Aśoka and is bound to be an asset for the scholars, students and those interested in Ancient Indian History and culture. [Vom Buchumschlag]
Inhalt
Introduction. xi
I. A. Aśokan Major Rock Edicts - Girnār. 1
B. Sopārā Rock Edicts. 69
C. Kaliṅga Separate Rock Edicts. 77
II. Minor Rock Edicts. 127
III. Major Pillar Edicts: Delhi-Toprā. 227
IV. Minor Pillar Edicts. 269
V. A. Cave Edicts. 297
B. Edicts of King Aśoka, Outside India. 307
C. Tables (I to VI). 337
Bibliography. 345
Index. 351
Herausgeberin
Dr. MEENA TALIM is the first person to be awarded a Ph.D in Pali from University of Mumbai (1960). She was retired as Professor and head, department of Ancient Indian Culture and Pali, St. Xavier's collage, Mumbai (1990). Her publications include Buddhavamso (1969), Woman in early Buddhist Literature (1972), Bagh Paintings - Identification and Interpretation (2002), Science of Medicine and Surgery in Buddhist India (2009), Life of Women in Buddhist Literature (in Press), Unidentified and Misinterpreted painting of Ajanta, (forthcoming). She has also written seven books for children and contributed more than seventy-five research papers to reputed Indological journals and Magazines. Dr. Talim is presently working as Honorary Professor at K.J. Somaiya centre for Buddhist studies, Mumbai and Visiting professor at University of Mumbai, Mumbai.
Quellen: Bagchee; Eastern Book Corp.; Exotic India