Subaltern citizens and their histories
Verfasst von pw am Mo, 01/11/2010 - 19:02.
Pandey, Gyanendra (Hrsg.):
Subaltern citizens and their histories : investigations from India and the USA / ed. by Gyanendra Pandey. - London and New York : Routledge, 2010. - X, 230 S. - (Intersections: colonial and postcolonial histories ; 1)
ISBN 978-0-415-77832-9
£ 85,00 / US$ 153,00
DDC: 323.154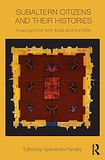 Beschreibung
Deploying the provocative idea of the 'subaltern citizen', this book raises fundamental questions about subalternity and difference, dominance and subordination, in India and the United States. In contrast to other writings on subordinated and marginalized people, the essays presented here devote deliberate attention to diverse locations of subalternity: in the conditions and histories of slaves, dalits, peasants, illegal immigrants, homosexuals, schoolteachers, women of noble lineage; in the Third World and the First; in pre-colonial, colonial and postcolonial times.
With contributions from a diverse group of distinguished scholars, the anthology explores issues of gender and sexuality, migration, race, caste and class, education and law, culture and politics. The very juxtaposition of different bodies of scholarship serves to challenge common perceptions of inherited histories – claims to American and Indian 'exceptionalism' – and promotes a new awareness, not only of shared histories and shared struggles in the making of the modern world, but of particularities and facets of our different histories and societal conditions that are assumed as being well understood, and hence often taken for granted. [Verlagsinformation]
Inhalt
Notes on contributors. vii
Preface and acknowledgments. ix
1. Gyanendra Pandey: Introduction: The subaltern as subaltern citizen. 1
PART 1: EQUAL BUT SEPARATE? 13
2. Gyanendra Pandey: Can there be a subaltern middle class? 15
3. Earl Lewis: Race, power, and multipositionality: Examples from the lives of black schoolteachers. 31
4. Ruby Lal: Recasting the women's question: the girl-child/woman in the colonial encounter. 47
5. Colin R. Johnson: Casual sex: towards a "prehistory" of gay life in Bohemian America. 63
PART 2: WRITING THE SUBALTERN. 79
6. Milind Wakankar: The question of a pre-history. 81
7. M.S.S. Pandian: Writing ordinary lives. 96
8. Leslie Harris: Subaltern city, subaltern citizens: New Orleans, urban identity, and people of African descent. 109
9. Prathama Banerjee: Culture/Politics: the double bind of the Indian adivasi. 125
PART 3: THE STATE AND THE PEOPLE. 143
10. Sudipta Sen: Subordination, governance and the legislative state in early colonial India. 145
11. Mary Odem: Subaltern immigrants: Undocumented workers and national belonging in the United States. 161
12. Steven Hahn: Could slaves enfranchise themselves? Rumours, narratives, and arenas of politics in the American South. 178
13. Partha Chatterjee: Democracy and subaltern citizens in India. 193
PART 4: AFTERWORD. 209
14. Jonathan Prude: Afterword. 211
Herausgeber
Gyanendra Pandey is Arts and Sciences Distinguished Professor in the Department of History, Emory University. A founding member of the Subaltern Studies collective and editor of the Intersections: Colonial and Postcolonial Histories book series at Routledge, he is one of the leading theorists and originators of the subaltern studies approach and has published widely in the field of colonial and postcolonial studies. Faculty Profile.