Images et Imagination
Verfasst von pw am Sa, 10/03/2009 - 11:05.
Skilling, Peter (Hrsg.):
Images et imagination : le bouddhisme en Asie ; Conférences Iéna 2007-2008, Art, archéologie et anthropologie de l'Asie / sous la direction de Peter Skilling. - Paris : Ecole française d'Extrême-Orient ; Musée Guimet, 2009. - [245] S. : Ill., Kt.
ISBN 978-2-85539-698-9
EUR 25,00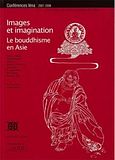 Inhalt
Avant-propos / Franciscus Verellen.
Introduction / Peter Skilling.
1. Nouvelles découvertes en Andhra Pradesh: la vie du Bouddha de Phanigiri / Peter Skilling.
2. Au service du Bouddha: les centres monastiques en Inde de l'Est / Himanshu Prabha Ray.
3. La Roue des renaissances dans les temples bouddhiques / Stephen F. Teiser.
4. Les temples bouddhiques de la dynastie Śailendra à Java-centre / Marijke J. Klokke.
5. Le nirvāṇa du Bouddha et les dépôts de reliques en Chine médiévale / Sonya Lee.
6. De Bodhgaya à Kukkuṭeśvara: la grotte-sanctuaire de Seokguram et les inscriptions indiennes / Juhyung Rhi.
7. La femme et le serpent: le bouddhisme et des démons dans le Japon d'Edo (1603-1867) / François Lachaud.
8. "Les ornements de la Cité d'Allégresse": une illustration moderne du Sūtra du Lotus au Japon / Jean-Noël Robert.
Postface / François Lachaud
Herausgeber
Peter Skilling is a Canadian citizen (born 1949). He has been a resident of Thailand for 30 years. He received a PhD with honours and a Habilitation in Paris (Ecole Pratique des Hautes Etudes). His main field of research is the archaeology, history, and literature of Buddhism in South and Southeast Asia. Other interests include the early history of Mahayana Buddhism, the Pali literature of Southeast Asia, and the history of the Buddhist order of nuns. He has travelled extensively in South and Southeast Asia, and been a visiting professor at Harvard University (2000), Oxford University (2002), and the University of California at Berkeley (2005). At present he is Maître de Conférences with the École française d'Extrême-Orient (EFEO) and Head of the Buddhist Studies Group of the EFEO. He is also a special lecturer at Chulalongkorn University (Bangkok). [Quelle: University of Sidney, 2009|
Quellen: Réseau Asie; Amazon (France); École Française d'Extrême-Orient.