Mourning the Nation
Verfasst von pw am Fr, 09/04/2009 - 18:04.
Sarkar, Bhaskar:
Mourning the Nation : Indian Cinema in the Wake of Partition / Bhaskar Sarkar. - Durham [u.a.] : Duke Univ. Press, 2009. - XI, 372 S. : Ill.
ISBN 978-0-8223-4393-6 / 0-8223-4393-2 (Hardcover)
US$ 94,95
ISBN 978-0-8223-4411-7 / 0-8223-4411-4 (Paperback)
US$ 25,95
DDC 791.43/65835404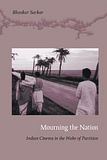 Beschreibung
What remains of the "national" when the nation unravels at the birth of the independent state? The political truncation of India at the end of British colonial rule in 1947 led to a social cataclysm in which roughly one million people died and ten to twelve million were displaced. Combining film studies, trauma theory, and South Asian cultural history, Bhaskar Sarkar follows the shifting traces of this event in Indian cinema over the next six decades. He argues that Partition remains a wound in the collective psyche of South Asia and that its representation on screen enables forms of historical engagement that are largely opaque to standard historiography.
Sarkar tracks the initial reticence to engage with the trauma of 1947 and the subsequent emergence of a strong Partition discourse, revealing both the silence and the eventual "return of the repressed" as strands of one complex process. Connecting the relative silence of the early decades after Partition to a project of postcolonial nation-building and to trauma's disjunctive temporal structure, Sarkar develops an allegorical reading of the silence as a form of mourning. He relates the proliferation of explicit Partition narratives in films made since the mid-1980s to disillusionment with post-independence achievements, and he discusses how current cinematic memorializations of 1947 are influenced by economic liberalization and the rise of a Hindu-chauvinist nationalism. Traversing Hindi and Bengali commercial cinema, art cinema, and television, Sarkar provides a history of Indian cinema that interrogates the national (a central category organizing cinema studies) and participates in a wider process of mourning the modernist promises of the nation form. [Verlagsinformation]
Inhalt
Acknowledgements. ix
Introduction : national cinema's hermeneutic of mourning. 1
PART 1: A RESONANT SILENCE
1. Cinema's project of nationhood. 47
2. Runes of laceration. 88
3. Bengali cinema : a spectral subnationality. 125
PART 2: THE RETURN OF THE REPRESSED
4. Dispersed nodes of articulation. 169
5. Ghatak, melodrama, and the restitution of experience. 200
6. Tamas and the limits of representation. 230
7. Mourning (un)limited. 259
Coda : the critical enchantment of mourning. 299
Notes. 305
Bibliography. 343
Index. 363.
Autor
BHASKAR SARKAR is Associate Professor of Film and Media Studies at the University of California, Santa Barbara. Profile page.
Quellen: Duke University Press; Amazon; WorldCat.