Mahabharata
Verfasst von pw am Fr, 08/28/2009 - 13:47.
Smith, John D. [Übers.]:
Mahābhārata / an abridged translation by John D. Smith. - London : Penguin Classic, 2009. - lxx, 834 S. : Kt.
ISBN 978-0-14-044681-4 / 0-14-044681-8
£ 16,99
DDC: 294.5923045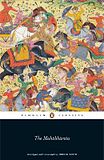 Beschreibung
The Mahabharata is one of the two major Sanskrit epics of ancient India. It is of immense importance to the culture of the Indian subcontinent, and is a major text of Hinduism. Its discussion of human goals (artha or 'purpose', kama or 'pleasure', dharma or 'duty', and moksha or 'liberation') takes place in a long-standing tradition, attempting to explain the relationship of the individual to society and the world (the nature of the 'Self') and the workings of karma. [Verlagsinformation]
Inhalt
Preface. vii
Pronunciation of Sanskrit. ix
Introduction. xi
THE MAHĀBHĀRATA
1. Beginnings. 1
2. The Hall. 84
3. The Forest. 164
4. Virāṭa. 243
5. Perseverance. 293
6. Bhīṣma. 348
7. Droṇa. 413
8. Karṇa. 488
9. Śalva. 526
10. The Night-raid. 563
11. The Women. 582
12. Tranquility. 597
13. Instruction. 668
14. The Horse Sacrifice. 703
15. The Hermitage. 734
16. The Clubs. 756
17. The Great Journey. 771
18. The Ascent to Heaven. 779
Variant Readings adopted. 793
Key to Names and Glossary. 795
Further Reading. 808
Map: The India of the Mahābhārata. 811
Genealogical Tables. 813
Index. 817.
Übersetzer
JOHN D. SMITH was born in Nottingham in 1946. He attended Magdalene College, Cambridge, where he read Sanskrit and Hindi. In the early 1970s he held a research fellowship at Christ's College, Cambridge; this was followed by nine years as lecturer in Sanskrit at the School of Oriental and African Studies in the University of London. In 1984 he returned to Cambridge, where he is now emeritus Reader of Sanskrit. He has worked on both Sanskrit and modern Rajasthani, and his publications include The Visaladevarasa: a restoration of the text (Cambridge, 1976) and The epic of Pabuji: a study, transcription and translation (Cambridge, 1991). Homepage.
Quellen: Amazon; WorldCat; Penguin Books (UK).