Celluloid Deities
Verfasst von pw am Mo, 08/17/2009 - 18:17.
Jacob, Preminda:
Celluloid deities : the visual culture of cinema and politics in South India / by Preminda Jacob. - Lanham : Lexington Books, 2009. - xi, 305 S. : Ill.
ISBN 978-0-7391-1060-7 / 0-7391-1060-8
US$ 80,00 / £ 49,95/ EUR 57,95 (cloth)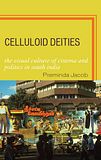 Beschreibung
Towering billboards featuring photorealistic portraits of popular cinema stars and political leaders dominated the cityscape of Chennai, in the south Indian state of Tamil Nadu, throughout the second half of the twentieth century. Studying the manufacture and reception of these billboards—known locally as banners and cutouts—within the context of the entwined histories of the cinema industry and political parties in Tamil Nadu, Preminda Jacob reveals the broader significance of these fragments of visual culture beyond their immediate function as pretty pieces of advertising.
Jacob analyzes the juxtaposition of cinematic and political imagery in the extra-cinematic terrain of Chennai's city streets and how this placement was pivotal to the elevation of regional celebrities to cult status. When interpreting these images and discussing their political and cultural resonance within the Tamil Nadu community, Jacob draws upon multiple perspectives to give appropriate context to this fascinating form of visual media. [Verlagsinformation]
Inhalt
Table of Contents
Acknowledgments
Introduction: Of Painters, Politicians, and Film Stars
1. Chennai's Banner Industry Artists and their Methods
2. Cooperation and Conflict in Chennai's Visual Culture: Financiers, Artists and Their Audiences
3. Tamil Cinema: History, Celebrities, Genres
4. Cine Signs: Semiotics of Chennai's Cinema Banners
5. The Coalescence of Tamil Nationalism and the Cinema Industry
6. The Political Cutout: Celebrity and Cult in Tamil Nadu
7. Darshan and Cinematic Spectatorship
8. The Future of Chennai's Visual Culture
Bibliography
About the Author
Autorin
PREMINDA JACOB is associate professor of art history and theory in the department of visual arts at the University of Maryland Baltimore County. Faculty profile.
Quellen: Lexington Books; Amazon; WorldCat