The Indian Night
Verfasst von pw am Sa, 07/04/2009 - 23:38.
Bautze-Picron, Claudine (Hrsg.):
The Indian Night : Sleep and Dreams in Indian Culture / ed. by Claudine Bautze-Picron. - New Delhi : Rupa, 2009. - XV, 661 S. : Ill.
ISBN 978-81-291-1388-7 / 81-291-1388-0
Rs. 395,00
US$ 8,59 (Eastern Book Corp.)
US$ 18,95 (D.K. Agencies)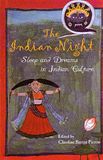 Beschreibung
The present volume collects twenty-two papers delivered at a conference held in April 2004 in Paris on 'Sleep and Dreams in the Indian World'. It shows that dreams have always been considered here to be major experiences deeply interwoven with life. [Verlagsinformation]
Buchbesprechungen:
- Vijay Nagaswami: "Mind over matter : the great Indian dream", in: The Hindu, June 7, 2009 (Online verfügbar).
- Rachna Singh: "Dreams we weave", in: The Tribune, June 21, 2009 (Online verfügbar).
- Uma Asher: "Themes of Indian dreams", in: The Times of India, May 24, 2009 (Online verfügbar).
Inhalt
THE PSYSIOLOGY OF DREAMS
1. Jean-Louis Valatx: Dream Physiology: A Western view on Dreams. 3
2. Martin Mittwede: Dreaming and Dying in Indian Mythology and Ayurvedic classical Texts. 21
THE MEANING OF DREAM
3. J.E.M. Houben: A Song against Bad Dreams: Magic, Superstition or Psychology? 37
4. Jürgen Hanneder: Dreams and Other States of Consciousness in the Mokṣopāya. 64
DREAMS AND SLEEP IN PRAXIS
5. Nalini Balbir: How to Sleep? What to dream? 103
6. Marie-Luce Barazer-Billoret: Dreams in the Śaivite Practice. 159
7. Jean Fezas: Dreams and Transgression in the Sanskrit. 173
8. Madhu Tandan: The Role of Dreams in Accessing Higher States of Consciousness as Practised in a Contemporary Indian Ashram. 192
DREAMS AND SLEEP IN LANGUAGE AND LITERATURE
9. Georges-Jean Pinault: Sleep and dream in the lexicon of the Indo-European Languages. 225
10. Jean-Pierre Osier: Common Dream and its Interpretation according to Indian narrative material. 260
11. Sylvain Brocquet: Between Dream and Reality: Literary Function of Dreams. 275
12. Eva De Clercq: Sleep and Dreams in the Rāma-Kathās. 303
13. Chantal Delamourd: The Nightmare in Tamil Short Stories. 329
DREAMS IN BUDDHISM
14. Anna Maria Quagliotti: Māyā's dream from India to Southeast Asia. 349
15. Claudine Bautze-Picron: The presence of the Five Dreams of the Bodhisatta in the Murals of Pagan. 418
16. Serinity Young: Dreams about the Buddha's Departure from Home and the Construction of a Buddhist System of Dream Interpretation. 452
17. Daniele Masset: Riding the Ass of the Great Vehicle Backwards: Dreams and Revelations in the Life and Songs of Milarepa. 468
DREAMS FROM ABROAD
18. Pierre Lory: The Role of Dreams in Muslim Mysticism. 493
19. Hartmut O. Rotermund: Good Dreams, Bad Dreams, in the History of Japanese Civilisation. 506
IMAGES OF DREAMS AND SLEEP
20. Anne-Claire Juramie: Representation s of Viṣṇu's Cosmic Sleep in Nepalese Sculpture. 539
21. Anne Casile: Śayana Forms of Devī in Sculpture Tradition from Central India. 566
22. Joachim K. Bautze: Two Illustrated Manuscripts on Dreams and Omens. 615
Herausgeberin
After completing her M. Phil. in Indian History from Jawaharlal Nehru University, CLAUDINE BAUTZE-PICRON became a research fellow at the National Centre of Scientific Research in Paris. As an art historian, her research has mainly focused on eastern India, Bangladesh and Myanmar. Homepage.
Quellen: Rupa; Eastern Book Corp.; NBC India; WorldCat; Library of Congress; D.K. Agencies.
Rückschau
Von der Herausgeberin haben wir in Indologica bereits die folgenden Titel erfaßt:
1. [18.05.2008] Bautze-Picron: Religion and Art
2. [15.02.2009] Miscellanies about the Buddha Image