The Awakened Ones
Verfasst von pw am Di, 03/27/2012 - 10:07.
Obeyesekere, Gananath:
The Awakened Ones : Phenomenology of Visionary Experience / Gananath Obeyesekere. - New York : Columbia University Press, 2012. - XX, 622 S. : Ill.
ISBN 978-0-231-15362-1 (Cloth)
ISBN 978-0-231-52730-9 (Ebook)
US$ 50,00 / £ 34,50
DDC: 204.2
Beschreibung
While a rational consciousness grasps many truths, Gananath Obeyesekere believes an even richer knowledge is possible through a bold confrontation with the stuff of visions and dreams. Spanning both Buddhist and European forms of visionary experience, he fearlessly pursues the symbolic, nonrational depths of such phenomena, reawakening the intuitive, creative impulses that power greater understanding.
Throughout his career, Obeyesekere has combined psychoanalysis and anthropology to illuminate the relationship between personal symbolism and religious experience. In this book, he begins with Buddha's visionary trances wherein, over the course of four hours, he witnesses hundreds of thousands of his past births and eons of world evolution, renewal, and disappearance. He then connects this fracturing of empirical and visionary time to the realm of space, considering the experience of a female Christian penitent, who stares devotedly at a tiny crucifix only to see the space around it expand to mirror Christ's suffering. Obeyesekere follows the unconscious motivations underlying rapture, the fantastical consumption of Christ's body and blood, and body mutilation and levitation, bridging medieval Catholicism and the movements of early modern thought as reflected in William Blake's artistic visions and poetic dreams. He develops the term "dream-ego" through a discussion of visionary journeys, Carl Jung's and Sigmund Freud's scientific dreaming, and the cosmic and erotic dream-visions of New Age virtuosos, and he defines the parameters of a visionary mode of knowledge that provides a more elastic understanding of truth. A career-culminating work, this volume translates the epistemology of Hindu and Buddhist thinkers for western audiences while revitalizing western philosophical and scientific inquiry. [Verlagsinformation]
Inhalt
Preface. xi
List of Abbreviations. xix
Introduction. 1
Book 1. The Visionary Experience: Theoretical Understandings. 19
Book 2. Mahāyāna: Salvific Emptiness, Fullness of Vision. 75
Book 3. The Cosmic "It": The Abstract Being of the Intellectuals. 127
Book 4. Penitential Ecstasy: The Dark Night of the Soul. 169
Book 5. Christian Dissent: The Protest Against Reason. 243
Book 6. Theosophies: West Meets East. 325
Book 7. Modernity and the Dreaming. 363
Book 8. Contemporary Dreaming: Secular Spirituality and Revelatory Truth. 441
Envoi - Intimations of Mortality: The Ethnographer's Dream and the Return of the Vultures. 473
Notes. 477
Glossary. 597
Index. 601
Autor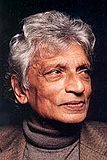 GANANATH OBEYESEKERE is professor emeritus of anthropology at Princeton University. His books include Cannibal Talk: Man-Eating Myth and Human Sacrifice in the South Sea; Imagining Karma: Ethical Transformation in Amerindian, Buddhist, and Greek Rebirth; Land Tenure in Village Ceylon; Medusa's Hair: An Essay on Personal Symbols and Religious Experience; The Cult of the Goddess Pattini; Buddhism Transformed; The Work of Culture: Symbolic Transformation in Psychoanalysis and Anthropology; and The Apotheosis of Captain Cook: European Mythmaking in the Pacific, which won the prize for most outstanding book in sociology and anthropology from the Association of American Publishers and the Gottschalk Prize from the American Society for Eighteenth Century Studies. Profile page.
Quellen: Columbia University Press; Amazon; WorldCat; Google Books