Mysore Modern
Verfasst von pw am Mi, 03/14/2012 - 14:01.
Nair, Janaki:
Mysore Modern : Rethinking the Region under Princely Rule / Janaki Nair. - Minneapolis : University of Minnesota Press, 2011. - x, 357 S. : Ill., Kt.
ISBN 978-0-8166-7383-4
US$ 82,50 (Hardcover)
ISBN 978-0-8166-7384-1
US$ 27,50 (Paperback)
DDC: 954.87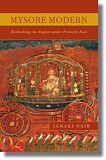 Beschreibung
Mysore Modern reconceptualizes modernity in India using the history of the Princely State of Mysore. In this forcefully argued work, Janaki Nair critiques earlier notions of the native states of India as spaces that were either defined entirely by the dominant narratives of colonial/national modernity or were relatively untouched by them.
Grounded in political history, and deriving insights from a wide range of visual, social, and legal texts and issues, Mysore Modern reperiodizes the modern by connecting these apparently discrepant registers to build up a case for a specifically regional, "monarchical modern" moment in Indian history. Nair examines mural and portraiture traditions, as well as forms of memorialization and nationalization of art and architectural practices. The volume also considers bureaucratic efforts centered on the use of law and development as instruments of modernity.
As Nair demonstrates, the resolution of struggles about the significance of the past in the present, the control of women's sexuality and labor, and the role of the bureaucracy in Mysore reveal the imperatives of taking the region as the inaugural site for writing a history of Indian modernity. [Verlagsinformation]
Inhalt
Acknowledgments
Introduction: Reconceptualizing the Modern, the Region, and Princely Rule
1. Tipu Sultan's War Colors and the Battle for Perspective
2. An Illusion of Permanence: Visualizing Legitimacy in Mysore
3. Srirangapatna: Capital City to Topography of Conquest
4. The Museumized Cityscape of Mysore
5. K. Venkatappa and the Fashioning of a Mysore Modern in Art
6. The Illicit in the Modern: Banning the Devadasi
7. The Licit in the Modern: Protecting the Child Wife
8. Giving the State a Nation: Revisiting Karnataka's Reunification
Notes
Glossary
Bibliography
Index
Autorin



JANAKI NAIR is professor at the Center for Historical Studies, Jawaharlal Nehru University. Her previous books include The Promise of the Metropolis: Bangalore's Twentieth Century, Women and the Law in Colonial India, and Miners and Millhands: Work, Culture, and Politics in Princely Mysore. Faculty page.
Quellen: University of Minnesota Press; WorldCat; Amazon; Library of Congress