The Origins of Modern Historiography in India
Verfasst von pw am Fr, 03/02/2012 - 21:07.
Mantena, Rama Sundari:
The Origins of Modern Historiography in India : antiquarianism and philology, 1780-1880 / Rama Sundari Mantena. - New York : Palgrave Macmillan, 2012. - ca. 276 S. : Ill. - (Palgrave studies in cultural and intellectual history)
ISBN 978-0-230-34101-2
US$ 85,00 / £ 55.00
DDC 954.0072
-- Angekündigt für März 2012 --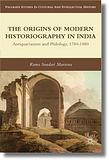 Beschreibung
Intellectual encounters abound in late eighteenth- and early nineteenth-century India comprising surveyors, collectors, antiquarians, philologists and their Indian assistants. The Origins of Modern Historiography in India uncovers everyday practices surrounding acts of collecting, surveying, and antiquarianism in the early period of British colonial rule in India. The new historical method construed by antiquarians, philologists and their assistants profoundly shaped access and perception of the Indian past. By examining early imperial strategies of producing historical knowledge, this book traces the colonial conditions of the production of "sources," the forging of a new historical method, and the ascendance of positivist historiography in nineteenth-century India. [Verlagsinformation]
Aus dem Inhalt
List of Figures and Tables. ix
Acknowledgments. xi
Introduction. The Origins of Modern Historiography in India. 1
1. Conquest and History: The Making of Colonial Archives. 31
2. Colin Mackenzie and the Search for History. 57
3. The Kavali Brothers: Native Intellectuals in Early Colonial Madras. 87
4. Colin Mackenzie's Archival Project and the Telugu Historical Record. 123
5. Colonial Philology and the Progressive History of Telugu. 151
Conclusion. 179
Appendixes. 185
Notes. 199
Bibliography. 229
Index. 249
Autorin
RAMA SUNDARI MANTENA is an assistant professor of History at the University of Illinois at Chicago. Homepage. Profile page.
Quellen: Macmillan; Palgrave; Amazon; WorldCat; Library of Congress