South Asian Feminisms
Verfasst von pw am Di, 02/28/2012 - 08:58.
Loomba, Ania [u.a.] [Hrsg.]:
South Asian Feminisms : contemporary interventions / Ania Loomba and Ritty A. Lukose, eds. - Durham : Duke University Press, 2012. - ca. 440 S. : Ill.
ISBN 978-0-8223-5165-8
US$ 99,95 (Cloth)
ISBN 978-0-8223-5179-5
US$ 27,95 (Paperback)
DDC: 305.420954
-- Angekündigt für Februar 2012 --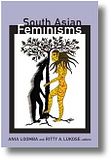 Beschreibung
During the past forty years, South Asia has been the location and the focus of dynamic, important feminist scholarship and activism. In this collection of essays, prominent feminist scholars and activists build on that work to confront pressing new challenges for feminist theorizing and practice. Examining recent feminist interventions in India, Pakistan, Sri Lanka, and Bangladesh, they address feminist responses to religious fundamentalism and secularism; globalization, labor, and migration; militarization and state repression; public representations of sexuality; and the politics of sex work. Their essays attest to the diversity and specificity of South Asian locations and feminist concerns, while also demonstrating how feminist engagements in the region can enrich and advance feminist theorizing globally. [Verlagsinformation]
Inhalt
Ania Loomba and Ritty A. Lukose:
South Asian Feminisms: Contemporary Interventions. 1
I. FEMINISM, RELIGION, AND THE SECULAR
Flavia Agnes:
From Shah Bano to Kausar Bano: Contextualizing the "Muslim Woman" within a Communalized Polity. 33
Amina Jamal:
Global Discourses, Situated Traditions, and Muslim Women's Agency in Pakistan. 54
Atreyee Sen:
Martial Tales, Right-Wing Hindu Women, and "History Telling" in the Bombay Slums. 75
II. FEMINISM, LABOR, AND GLOBALIZATION
Sonali Perera:
Of Moments, Not Monuments: Feminism and Labor Activism in Postnational Sri Lanka. 97
Anannya Bhattacharjee:
Feminism, Migration, and Labor: Movement Building in a Globalized World. 117
III. FEMINISM, WAR, PEACE
Vasuki Nesiah:
Uncomfortable Alliances: Women, Peace, and Security in Sri Lanka. 139
Malathi de Alwis:
Feminist Politics and Maternalist Agonism. 162
Angana P. Chatterji:
Witnessing as Feminist Intervention in India-Administered Kashmir. 181
IV. FEMINISM, FIGURATION, AND THE POLITICS OF READING AND WRITING
Lamia Karim:
Transnational Politics of Reading and the (Un)making of Taslima Nasreen. 205
Laura Brueck:
At the Intersection of Gender and Caste: Rescripting Rape in Dalit Feminist Narratives. 224
Anjali Arondekar:
Subject to Sex: A Small History of the Gomantak Maratha Samaj. 244
V. FEMINISM, SEX WORK, AND THE POLITICS OF SEXUALITY
Firdous Azim:
Keeping Sexuality on the Agenda: The Sex Workers' Movement in Bangladesh. 267
Toorjo Ghose:
Politicizing Political Society: Mobilization among Sex Workers in Sonagachi, India. 285
Ashwini Sukthankar:
Queering Approaches to Sex, Gender, and Labor in India: Examining Paths to Sex Worker Unionism. 306
VI. FEMINIST CRISIS AND FUTURES
Ratna Kapur:
Hecklers to Power? The Waning of Liberal Rights and Challenges to Feminism in India. 333
Mrinalini Sinha:
A Global Perspective on Gender: What's South Asia Got to Do with It? 356
Bibliography. 375
Contributors. 407
Index. 411
Herausgeber
ANIA LOOMBA is the Catherine Bryson Professor of English at the University of Pennsylvania, where she is affiliated with the departments of Comparative Literature, South Asian Studies, Women's Studies, and Asian-American Studies. Profile page.
RITTY A. LUKOSE is Associate Professor at the Gallatin School of Individualized Study at New York University. Profile page.
Quellen: Duke University Press; WorldCat; Amazon; Google Books