Indian Kavya Literature
Verfasst von pw am Mo, 02/13/2012 - 15:54.
Warder, Anthony Kennedy:
Indian Kāvya Literature / A. K. Warder. - Vol. 8: The performance of Kāvya in the +14. - Delhi : Motilal Banarsidass, 2011. - XIV, 419 S.
ISBN 978-81-208-3448-4
Rs. 995,00
US$ 34,75 (South Asia Books)
DDC: 891.209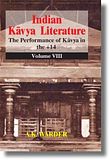 Beschreibung
Where Kavya flourished, performance in the streets and in theatres also flourished. So theatre in Andhra and everywhere to the south, also in Orissa, Mithila and Nepala, flourished in the +14. In Andhra Rudra's Yayaticarita is the earliest extant play on that famousking. The Telugu translation of the Premabhirama gives us a substantial street play vithi describing scenes in the Kakatiya capital. Narasimha's Kadambari play has an improved ending. Agastya composed two epics from the Mahabharata and a biography from the Harivamsa. In Rajasthan Rayanasehara's novel has his hero given troupes of actors to perform for him whilst he is travelling. In Gurjara Jinaprabha's Kalpapradipa (completed in Yoginipattana = 'Dhilli') is a miserable history of sacrilege and Islamic terror. In Sarvananda's Jagaducarita the merchant foresaw a famine and stored enough grain to feed all western India plus Kasi. Princess Ganga composed the Sanskrit epic Madhuravijaya on her husband's slaying of the Turkish suratrana in Madurai, a decisive event in Vijayanagara (and Indian) history. Ahobala's campu is a comic satire matallika on a festival there. Venkatanatha's allegorical play is of interest only for some incidental details. In Kerala we have an anonymous bhana set in Mahodaya and Laksmidasa's long message poem Sukasandesa, which is just a dream he had about his wife Rangalaksmi (Apphulla). Purnasarasvati composed a strict sataka Hamsasandesa and an ecological play on a victory of birds over storms of the rainy season. Autumn then regulated the round of seasons. The actor Damodara composed a Sanskrit epic and Malayalam manipravala campu, both on the actress Unniyati. From Tirabhukti (Mithila) we have comedies by Jyotirisvara and Yadunandana. From Nepala there are several Sanskrit plays. In Balinese the Sutasoma is an enormous vajrayana work. [Verlagsinformation]
Inhalt
Ch. 58. Āndhra and Karṇāṭaka in the early +14. 1
Ch. 59. Dravidian India at the Time of the Founding of Vijayanagara. 75
Ch. 60. North India in the +14. 153
Ch. 61. Dravidian India in the Second Half of the +14. 277
Additional Bibliography. 355
Index. 363
Autor
ANTHONY KENNEDY WARDER (*1924), Professor emeritus of Sanskrit in the University of Toronto.
Quellen: Motilal Banarsidass; WorldCat; South Asia Books