Language Policy and Language Conflict in Afghanistan
Verfasst von pw am Mi, 01/04/2012 - 06:58.
Schiffman, Harold F. [Hrsg.]:
Language Policy and Language Conflict in Afghanistan and Its Neighbors : The Changing Politics of Language Choice / ed. by Harold F. Schiffman. - Leiden [u.a.] : Brill, 2011. - xvi, 372 S. - (Brill's Studies in South and Southwest Asian Languages ; 2)
ISBN 978-90-04-20145-3
EUR 128,00 / US$ 176,00
DDC: 306.44958
-- Angekündigt für Dezember 2011 --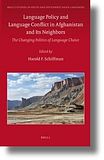 Beschreibung
Language policy in Central Asia, Afghanistan and the immediately surrounding neighboring countries has a long and varied history. The Iranian revolution of 1978, the collapse of the Soviet Union in 1991, and the ongoing conflict in Afghanistan since 2001 have left the area in a state of flux. This volume gives a better picture about what is official and explicit, what is not official but implicit or general practice, and what the likely future developments might be. It is very clear that multilingualism, whether it involves Persian, Russian or English in addition to other languages, not only has long been a part of the scene, but will probably continue to be so. [Verlagsinformation]
Herausgeber
HAROLD F. SCHIFFMAN's research interests focus on the linguistics of the Dravidian languages, especially Tamil and, to a lesser extent, Kannada, and on the area of language policy. He has published extensively in these two areas where overlapping interests in sociolinguistics (diglossia, language standardization, multilingualism) intersect with language policy and the politics of language. He is also director of the Consortium for Language Policy and Planning. Homepage.
Quellen: Brill; Amazon; Library of Congress; WorldCat
Bibliographie: [1]
---
References