Yoga in Practice
Verfasst von pw am Di, 11/22/2011 - 21:10.
White, David Gordon:
Yoga in Practice / ed. by David Gordon White. - Princeton and Oxford : Princeton University Press, 2012 [erschienen: 2011]. - ca. 416 S. - (Princeton readings in religions)
ISBN 978-0-691-14085-8
US$ 85,00 / £ 59,00 (Hardcover)
ISBN 978-0-691-14086-5
US$ 29,95 / £ 20,95 (Paperback)
DDC: 181.45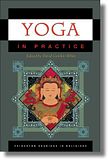 Beschreibung
Yoga is a body of practice that spans two millennia and transcends the boundaries of any single religion, geographic region, or teaching lineage. In fact, over the centuries there have been many "yogas"--yogas of battlefield warriors, of itinerant minstrels and beggars, of religious reformers, and of course, the yogas of mind and body so popular today. Yoga in Practice is an anthology of primary texts drawn from the diverse yoga traditions of India, greater Asia, and the West. This one-of-a-kind sourcebook features elegant translations of Hindu, Buddhist, Jain, and even Islamic yogic writings, many of them being made available in English for the very first time. Collected here are ancient, colonial, and modern texts reflecting a broad range of genres, from an early medical treatise in Sanskrit to Upanishadic verses on sacred sounds; from a Tibetan catechetical dialogue to funerary and devotional songs still sung in India today; and from a 1930s instructional guide by the grandfather of contemporary yoga to the private papers of a pioneer of tantric yoga in America.
Emphasizing the lived experiences to be found in the many worlds of yoga, Yoga in Practice includes David Gordon White's informative general introduction as well as concise introductions to each reading by the book's contributors. [Verlagsinformation]
Inhalt
Contents by Tradition. vii
Contents by Country. ix
Contributors. xi
David Gordon White:
Introduction. 1
David Gordon White:
Note for Instructors. 24
FOUNDATIONAL YOGA TEXTS
1. Dominik Wujastyk:
The Path to Liberation through Yogic Mindfulness in Early Āyurveda. 31
2. James L. Fitzgerald:
A Prescription for Yoga and Power in the Mahābhārata. 43
3. Angelika Malinar:
Yoga Practices in the Bhagavadgītā. 58
4. Gerald James Larson:
Pātañjala Yoga in Practice. 73
5. Jeffrey Clark Ruff:
Yoga in the Yoga Upanisads: Disciplines of the Mystical OṂ Sound. 97
6. Christopher Key Chapple:
The Sevenfold Yoga of the Yogavāsiṣṭha. 117
7. Carl W. Ernst:
A Fourteenth-Century Persian Account of Breath Control and Meditation. 133
YOGA IN JAIN, BUDDHIST, AND HINDU TANTRIC TRADITIONS
8. Paul Dundas:
A Digambara Jain Description of the Yogic Path to Deliverance. 143
9. Roger R. Jackson:
Saraha's Queen Dohās. 162
10. Jacob P. Dalton:
The Questions and Answers of Vajrasattva. 185
11. Vesna A. Wallace:
The Six-Phased Yoga of the Abbreviated Wheel of Time Tantra (Laghukālacakratantra) according to Vajrapāṇi. 204
12. Glen Alexander Hayes:
Eroticism and Cosmic Transformation as Yoga: The Ātmatattva of the Vaiṣṇava Sahajiyās of Bengal. 223
13. Somadeva Vasudeva:
The Transport of the Haṃsas: A Śākta Rāsalīlā as Rājayoga in Eighteenth-Century Benares. 242
YOGA OF THE NĀTH YOGĪS
14. James Mallinson:
The Original Gorakṣaśataka. 257
15. William R. Pinch:
Nāth Yogīs, Akbar, and the "Bālnāth Ṭillā". 273
16. Ann Grodzins Gold and Daniel Gold:
Yogic Language in Village Performance: Hymns of the Householder Nāths. 289
YOGA IN THE COLONIAL AND POST-COLONIAL PERIODS
17. Sthaneshwar Timalsina:
The Yoga System of the Josmanīs. 309
18. Knut A. Jacobsen:
Songs to the Highest God (Īśvara) of Sāṃkhya-Yoga. 325
19. Mark Singleton, M.Narasimhan, and M. A. Jayashree:
Yoga Makaranda of T. Krishnamacharya. 337
20. Paul G. Hackett:
Theos Bernard and the Early Days of Tantric Yoga in America. 353
21. Olle Qvarnstrom and Jason Birch:
Universalist and Missionary Jainism: Jain Yoga of the Terāpanthī Tradition. 365
Glossary of Foreign Terms. 383
Index 389
Herausgeber
DAVID GORDON WHITE is the J. F. Rowny Professor of Comparative Religion at the University of California, Santa Barbara. His books include Sinister Yogis and Tantra in Practice (Princeton). Profile page.
Quellen: Princeton University Press; Amazon (UK); WorldCat; Google Books