Kampil
Verfasst von pw am Di, 11/15/2011 - 12:55.
Dallaporta, Annamaria [u.a.]:
Kampil : archaeological study of a site in the ancient kingdom of Panchala / Annamaria Dallaporta, Lucio Marcato. - New Delhi : Munshiram Manoharlal Publishers, 2011. - X, 210 S. : Ill., Kt.
ISBN 978-81-215-1236-7 / 81-215-1236-0
Rs. 795,00
US$ 18,07 (Eastern Book Corp.)
US$ 19,25 (Munshiram Manoharlal)
US$ 39,35 (D.K. Agencies)
DDC: 934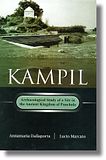 Beschreibung
Kampil, located in the South Panchala region where the bases of the culture of the Indian civilization were developed, very probably played a role in that process. Cunningham realised, back in the nineteenth century, the archaeological potential of the site and identified Kampil with Kampilya. But the archaeological excavations will be the only way of knowing whether the name of Kampil was Kampilya, as Cunningham maintained, or whether the identity was only temporary, as the authors believe, or alternatively whether Kampil had nothing in common with the ancient capital. In the meantime, despite the predictable difficulties (the present built-up area occupies a large part of the mound), there are sufficient reasons to carry on in-depth researches about the site. The book brings together the indications obtained from Kampil, all the known information referring to the site and some hypotheses the authors have formulated. It is not possible to write about Kampil without widening the discussion to Panchala, one of the best-know protohistoric mahajanapadas, probably involved in Kampilya events. Anyone looking for definitive and archaeologically certain elements in the book will be disappointed because the intention here is to transmit, above all, ideas and stimuli for further archaeological research.
Inhalt
1. Kampil Today. 1
2. Panchala : Origin and Development. 23
3. Some Consideration on the Territory Around Kampil. 45
4. Kampil in Ancient Times. 91
5. Drupad Kila. 151
6. The Museum of Kampil. 175
Autoren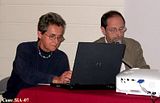 ANNAMARIA DALLAPORTA and LUCIO MARCATO are freelance Italian archaeological scholars who have, for some years now, concentrated on study of the territory of ancient South Pancala Kingdom.
Quellen: Munshiram Manoharlal; Eastern Book Corp.; D.K. Agencies; WorldCat