Re-Orientalism and South Asian Identity Politics
Verfasst von pw am Do, 10/20/2011 - 21:28.
Lau, Lisa [u.a.] [Hrsg.]:
Re-orientalism and South Asian identity politics : the oriental other within / edited by Lisa Lau ; Ana Cristina Mendes. - London [u.a.] : Routledge, 2011. - 162 S. - (Routledge contemporary South Asia series ; 44)
ISBN 978-0-415-59902-3
£ 80,00
DDC: 306.0954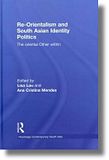 Beschreibung
Orientalism refers to the imitation of aspects of Eastern cultures in the West, and was devised in order to have authority over the Orient. The concept of Re-Orientalism maintains the divide between the Orient and the West. However, where Orientalism is based on how the West constructs the East, Re-Orientalism is grounded on how the cultural East comes to terms with an orientalised East.
This book explores various new forms, objects and modes of circulation that sustain this renovated form of Orientalism in South Asian culture. The contributors identify and engage with recent debates about postcolonial South Asian identity politics, discussing a range of different texts and films such as The White Tiger, Bride & Prejudice and Kama Sutra: A Tale of Love.
Providing new theoretical insights from the areas of literature, film studies and cultural and discourse analysis, this book is an stimulating read for students and scholars interested in South Asian culture, postcolonial studies and identity politics. [Verlagsinformation]
Inhalt
Contributors. ix
Acknowledgements. xi
List of abbreviations. xii
1. Lisa Lau and Ana Cristina Mendes:
Introducing re-Orientalism: A new manifestation of Orientalism. 1
2. Lisa Lau:
Re-Orientalism in contemporary Indian Writing in English. 15
3. Sarah Brouillette:
On the entrepreneurial ethos in Aravind Adiga's The White Tiger. 40
4. Wai-Chew Sim:
'Tomorrow's brother': Contesting Orientalisms in Gopal Baratham's A Candle or the Sun. 56
5. Jigna Desai:
Pulp frictions. 72
6. Ana Cristina Mendes:
Re-Orientalism is on TV: From Salman Rushdie's The Aliens Show to The Kumars at No. 42. 89
7. Tamara S. Wagner:
Foreign fantasies and genres in Bride & Prejudice: Jane Austen re-Orientalises British Bollywood. 103
8. Mita Banerjee:
Bollywood meets Issey Miyake: Indo chic versus Asian fusion fashion in contemporary Hindi cinema. 124
9. Tabish Khair:
Re-Orientalisms: Meditations on exoticism and transcendence, Otherness and the Self. 144
Index. 159
Herausgeberinnen
LISA LAU is Head of Human Geography at Keele University, UK. Her research interests include post-colonialism, literary studies, gender studies, and South Asia, encompassing the issues of power, narrative, identity construction, class chasms, social and cultural change. Profile page.
ANA CRISTINA MENDES is a researcher at ULICES (University of Lisbon Centre for English Studies) in Portugal. Her research interests span postcolonial cultural production and its intersection with the culture industries. Profile page.
Quellen: Routledge; WorldCat; Amazon (UK)