Brilliant Illumination of the Lamp of the Five Stages
Verfasst von pw am Sa, 04/30/2011 - 20:53.
Tsoṅ-kha-pa Blo-bzaṅ-grags-pa:
Brilliant Illumination of the Lamp of the Five Stages (Rim lnga rab tu gsal ba'i sgron me) : Practical Instruction in the King of Tantras: Glorious Esoteric Community / by Tsong Khapa Losang Drakpa ; introduction and translation by Robert A. F. Thurman ; ed. by Thomas F. Yarnall. - New York : American Institute of Buddhist Studies, distr. by Columbia University Press, 2010. - xviii, 723 S. - (Treasury of the Buddhist sciences)
Einheitssachtitel: Rim lṅa rab tu gsal ba'i sgron me <engl.>
ISBN 978-1-935011-00-2
US$ 62,00
DDC: 294.3923
Ursprünglich angekündigt 2009 unter dem Titel: Tsong Khapa's Extremely Brilliant Lamp (so noch Columbia University Press und diverse Buchhandelskataloge)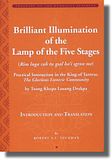 Beschreibung
The present work is the cornerstone of our Jey Yabsey Sungbum Collection, a subset of our Treasury of the Buddhist Sciences series. Compromised of the collected work of Tsong Khapa Losang Drakpa (1357-1419) and His Spiritual Sons, Gyaltsap Darma Rinchen (1364-1432) and Khendrup Gelek Pelsang (1385-1438), this Collection is a voluminous set of independent Tibetan treatises and super commentaries, all based on the thousands of works contained in the Kangyur and Tengyur Collections.
The Brilliant Illumination of the Lamp of the Five Stages (Rim Inga rab tu gsal ba'i sgron me) is Tsong Khampa's most important commentary on the perfection stage practices of the Esoteric Community (Guhyasamaja), the Tantra he considered fundamental for the practice of the "Father Tantra" class of Unexcelled Yoga Tantras. It draws heavily on Nagarjuna's Five Stages (Pancakrama) and Aryadeva's Lamp the integrates the Practices (Caryamelapakapradipa), as well as a vast range of perfection stage works included in the Tibetan Kangyur and Tengyur collections. It is an important work for both scholars and practitioners. An annotated translation is supplemented with extensive glossaries and other support material.
Inhalt
Series Editor's/Author's Preface. xi
Sources, Conventions, and Abbreviations. xvi
PART ONE: INTRODUCTION
1. What is a "Buddha Vajradhara," the Goal of this Tradition? 3
2. Who Are the Beings Who Maintain this Tradition? 14
3. Who is the Inspiration of this Author? 27
4. Who Are His Honored Tibetan Predecessors and Mentors? 28
5. Who Most Needs the Esoteric Community? 30
6. Who Are the Lucky Students of this Text? 31
7. How to Study this Text. 31
PART TWO: ANNOTATED ENGLISH TRANSLATION
I. Introductory. 35
II. General Learning of the Tantric Path. 93
III. Explanation of the Perfection Stage of this Tantra in Particular. 149
IV. Body Isolation. 179
V. Speech Isolation in General. 221
VI. Speech Isolation - How to Practice. 287
VII. Mind Isolation. 351
VIII. Two Reality Perfection Stage. 395
IX. Ultimate Clear Light Transparence. 457
X. The Perfect Stage of Communion. 493
XI. Conduct, the Art of Heightening Impact on the Two Stages. 517
APPENDIX, GLOSSARIES, BIBLIOGRAPHIES, INDEXES
Appendix: Topical Outline (sa bcad) of the Brilliant Illumination. 576
Glossaries. 593
Bibliographies. 664
Indexes. 703
Übersetzer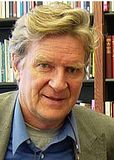 ROBERT A. F. THURMAN, Jey Tsong Khapa Professor of Indo-Tibetan Studies, Columbia University, New York. Profile page. Homepage.
Quellen: Columbia University Press; Wisdom Books; WorldCat; Amazon; Amazon; Namse Bangdzo Bookstore