Anglophone Poetry in Colonial India
Verfasst von pw am Fr, 08/12/2011 - 11:09.
Gibson, Mary Ellis:
Anglophone Poetry in Colonial India, 1780–1913 : A Critical Anthology / ed. by Mary Ellis Gibson. - Athens : Ohio University Press, 2011. - xv, 397 S.
ISBN 978-0-8214-1942-7
US$ 42,95
DDC: 821.914080954
-- Angekündigt für Juli 2011 --
Beschreibung
Anglophone Poetry in Colonial India, 1780–1913: A Critical Anthology makes accessible for the first time the entire range of poems written in English on the subcontinent from their beginnings in 1780 to the watershed moment in 1913 when Rabindranath Tagore won the Nobel Prize in Literature.
Mary Ellis Gibson establishes accurate texts for such well-known poets as Toru Dutt and the early nineteenth-century poet Kasiprasad Ghosh. The anthology brings together poets who were in fact colleagues, competitors, and influences on each other. The historical scope of the anthology, beginning with the famous Orientalist Sir William Jones and the anonymous "Anna Maria" and ending with Indian poets publishing in fin-de-siècle London, will enable teachers and students to understand what brought Kipling early fame and why at the same time Tagore's Gitanjali became a global phenomenon. Anglophone Poetry in Colonial India, 1780–1913 puts all parties to the poetic conversation back together and makes their work accessible to American audiences.
With accurate and reliable texts, detailed notes on vocabulary, historical and cultural references, and biographical introductions to more than thirty poets, this collection will significantly reshape the understanding of English language literary culture in India. It allows scholars to experience the diversity of poetic forms created in this period and to understand the complex religious, cultural, political, and gendered divides that shaped them. [Verlagsinformation]
Inhalt
Acknowledgments. ix
A Note on Names. xiii
Abbreviations. xv
Introduction. 1
- Sir William Jones. 30
- Sir John Horsford. 44
- Anna Maria. 52
- Lady Maria Nugent. 60
- John Leyden. 64
- James Atkinson. 71
- Reginald Heber. 81
- George Anderson Vetch. 90
- Horace Hayman Wilson. 96
- John Lawson. 105
- Thomas Medwin. 114
- Emma Roberts. 121
- James Ross Hutchinson. 133
- Henry Meredith Parker. 140
- David Lester Richardson. 149
- Honoria Marshall Lawrence. 158
- Kasiprasad Ghosh. 169
- Henry Louis Vivian Derozio. 179
- Henry Page. 189
- Sir John William Kaye. 196
- E.L. 203
- Michael Madhusudan Dutt. 212
- Shoshee Chunder Dutt. 223
- Govin Chunder Dutt and The Dutt Family Album. 230
- Mary Seyers Carshore. 247
- Sir Edwin Arnold. 259
- Greece Chunder Dutt. 265
- Mary Eliza Leslie. 271
- Sir Alfred Comyn Lyall. 279
- Aru Dutt. 287
- Toru Dutt. 294
- John Renton Denning. 305
- Rabindranath Tagore. 310
- Laurence Hope [Adela Cory Nicolson]. 321
- Rudyard Kipling. 326
- Manmohan Ghose. 343
- Joseph Furtado. 349
- Aurobindo Ghose. 354
- Sarojini Naidu. 363
APPENDIX: COMIC AND SATIRIC POETS OF THE LONG NINETEENTH CENTURY
- Quiz. 373
- Sir Charles D'Oyly. 377
- Pips. 381
- Aliph Cheem [Walter Yeldham]. 386
Index of Authors. 393
Index of Titles. 395
Herausgeberin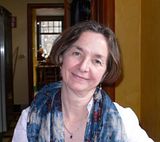 MARY ELLIS GIBSON is the Elizabeth Rosenthal Professor of English and Women's and Gender Studies, University of North Carolina Greensboro. Her books include History and the Prism of Art: Browning's Poetic Experiments and Epic Reinvented: Ezra Pound and the Victorians. She has also edited several other anthologies, including New Stories by Southern Women, Homeplaces: Stories of the South by Women Writers, and Critical Essays on Robert Browning. Profile page.
Quellen: Ohio University Press; WorldCat; Amazon; Google Books