The Empire Inside
Verfasst von pw am Do, 04/28/2011 - 19:09.
Daly, Suzanne:
The empire inside : Indian commodities in Victorian domestic novels / Suzanne Daly. - Ann Arbor : University of Michigan Press, 2011. - 167 S. : Ill.
ISBN 978-0-472-07134-0 (Cloth)
US$ 75,00
ISBN 978-0-472-05134-2 (Paperback)
US$ 25,95
DDC: 823.8093553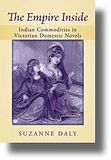 Beschreibung
By the early nineteenth century, imperial commodities had become commonplace in middle-class English homes. Such Indian goods as tea, textiles, and gemstones led double lives, functioning at once as exotic foreign artifacts and as markers of proper Englishness. The Empire Inside: Indian Commodities in Victorian Domestic Novels reveals how Indian imports encapsulated new ideas about both the home and the world in Victorian literature and culture. In novels by Charlotte Brontë, Charles Dickens, and Anthony Trollope, the regularity with which Indian commodities appear bespeaks their burgeoning importance both ideologically and commercially. Such domestic details as the drinking of tea and the giving of shawls as gifts point us toward suppressed connections between the feminized realm of private life and the militarized realm of foreign commerce.
Tracing the history of Indian imports yields a record of the struggles for territory and political power that marked the coming-into-being of British India; reading the novels of the period for the ways in which they infuse meaning into these imports demonstrates how imperialism was written into the fabric of everyday life in nineteenth-century England. Situated at the intersection of Victorian studies, material cultural studies, gender studies, and British Empire studies, The Empire Inside is written for academics, graduate students, and advanced undergraduates in all of these fields. [Verlagsinformation]
Inhalt
Introduction: Colonial Commodities and the Naturalization of Empire. 1
1. The Private Life of Things: Kashmir Shawls. 12
2. Mechanization, Free Trade, and Imperialism: Cotton. 36
3. Plunder as Property: Diamonds. 61
4. Tea and the Mode of (Literary) Production. 84
5. Imperial Imports at the Fin de Siècle. 106
Notes. 119
Works Cited. 147
Index. 161
Autorin
SUZANNE DALY is Associate Professor of English, University of Massachusetts Amherst. Profile page.
Quellen: University of Michigan Press; Amazon; WorldCat; Google Books