Introduction to Indian Philosophy
Verfasst von pw am Sa, 09/24/2011 - 00:54.
Gupta, Bina:
An introduction to Indian philosophy : perspectives on reality, knowledge, and freedom / Bina Gupta. - London [u.a.] : Routledge, 2012 [2011]. - xiii, 343 S.
ISBN 978-0-415-80002-0
£ 65,00 (Hardcover)
ISBN 978-0-415-80003-7
£ 22,99 (Paperback)
DDC: 181.4
-- Angekündigt für August 2011 --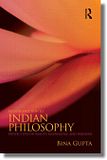 Beschreibung
An Introduction to Indian Philosophy offers a profound yet accessible survey of the development of India's philosophical tradition. Beginning with the formation of Brahmincal, Jain, Materialist and Buddhist traditions, Bina Gupta guides the reader through the classical schools of Indian thought, culminating in a look at how these traditions inform Indian philosophy and society in modern times. Offering translations from source texts and clear explanations of philosophical terms, this text provides a rigorous overview of Indian philosophical contributions to epistemology, metaphysics, language, experience and ethics. This is a must-read for anyone seeking a reliable and illuminating introduction to Indian philosophy. [Verlagsinformation]
Inhalt
Preface
Abbreviations
PART I
1. Introduction
PART II: THE FOUNDATIONS
2. The Vedas
3. The Upanisads
Appendix I: Translations of Selected Texts
PART III: NON-VEDIC SYSTEMS
4. The Cāvāka Darśana and the Śramanas
5. The Jaina Darśana
6. The Bauddha Darśana
Appendix II: Translations of Selected Texts
PART IV: THE ANCIENT SYSTEMS
7. The Mīmāmsā Darśana
8. The Sāmkhya Darśana
9. The Yoga Darśana
10. The Vaiśesika Darśana
11. The Nyāya Darśana
Appendix III: Translations of Selected Texts
PART V: SYSTEMS WITH GLOBAL IMPACT
12. The Buddhist Schools
13. The Vedānta Darśana
(i) Advaita Vedānta
(ii) Viśistādvaita
Appendix IV: Translations of Selected Texts
PART VI: TEACHINGS OF THE BHAGAVAD GĪTĀ
14. The Bhagavad Gītā
PART VII: MODERN INDIAN THOUGHT
(i) Śrī Aurobindo
(ii) K.C. Bhattacharyya
Endnotes
Glossary
Bibliography
Index
Autorin
BINA GUPTA is Curators' Distinguished Research Professor, Professor of Philosophy, and Director of South Asian Studies at the University of Missouri. Profile page.
Quellen: Routledge; WorldCat; Amazon (UK); Library of Congress