The Fading Light of Advaita Acarya
Verfasst von pw am Mo, 07/18/2011 - 07:08.
Manring, Rebecca:
The fading light of Advaita Acarya : three hagiographies / Rebecca J. Manring. - Oxford : Oxford University Press, 2011. - ca. 312 S. - (AAR Religions in Translation)
ISBN 978-0-19-973646-1
US$ 99,00 (Hardcover)
ISBN 978-0-19-973647-8
US$ 35,00 (Paperback)
DDC: 294.5512092
-- Angekündigt für Juli 2011 --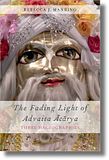 Beschreibung
Rebecca J. Manring offers a hagiographical treatment of Advaita Acarya, an important figure in the early years of the devotional Vaisnavism which originated in Bengal in the 15th century. Advaita Acarya was about fifty years older than the movement's putative founder, Caitanya, and is credited by the tradition by having caused Caitanya's advent through his ceaseless storming of heaven for the divine presence to come to earth. Advaita was a scholar and very respectable pillar of society, whose own status lent respectability and credibility to the new movement during its formative years.
A significant body of hagiographical and related literature treating Advaita Acarya developed, some composed perhaps soon after his death and others as late as the early 20th century. These texts all treat the years of Advaita's life that did not overlap with Caitanya's lifetime, and all present slightly different pictures of their protagonist. Each composition clearly advocates the view that Advaita was himself divine in some way, and a few go so far as to suggest that Advaita reflected even greater divinity than did Caitanya. This particular text is so rife with tales not found elsewhere in Bengali Vaisnava literature, and with stories of the miraculous, that it will lend itself very well to a university course on hagiography. The detailed introduction to the book will allow students not familiar with the South Asian religious world, access to this text. And the texts themselves are translated in a way that American students will find readable, while at the same time sticking as close to the original Middle Bengali or Sanskrit as possible. [Verlagsinformation]
Inhalt
Foreword. ix
Acknowledgments. xiii
Notes on Translation and Transliteration. xvii
1. A Case Study in Hagiography. 3
2. Haricaraṇa Dāsa's Advaita Maṅgala. 54
3. Lauḍīya Kṛṣṇadāsa's Bālya-Līlā-Sūtra. 134
4. Īśāna Nāgara's Advaita Prakāśa. 155
Appendices. 263
Glossary of Names, Epithets, and Terms. 265
Bibliography. 271
Index. 275
Autor
REBECCA J. MANRING considers Kolkata her second home. She lives and gardens in Bloomington, Indiana, where she is Associate Professor at Indiana University. Profile page. Facebook profile.
Quellen: Oxford University Press (USA); Library of Congress; WorldCat; Amazon