Himalayan Languages and Linguistics
Verfasst von pw am Di, 05/24/2011 - 19:09.
Turin, Mark [u.a.] [Hrsg.]:
Himalayan Languages and Linguistics : Studies in Phonology, Semantics, Morphology and Syntax / ed. by Mark Turin and Bettina Zeisler. - Leiden [u.a.] : Brill, 2011. - viii, 322 S. - (Brill's Tibetan Studies Library ; 5)
ISBN 978-90-04-19448-9
EUR 108,00 / US$ 154,00
DDC: 495.4
-- Angekündigt für April 2011 --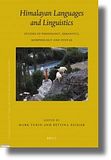 Beschreibung
Himalayan Languages and Linguistics gathers together nine outstanding and original contributions on the Tibeto-Burman and Indo-Aryan languages of this important and culturally diverse mountainous area. Filling a marked gap in our understanding of the languages of this underdocumented region, the collection offers a snapshot of the state of the field of Himalayan language research and linguistic comparison. Drawing on primary fieldwork in China, India, Nepal and Pakistan, as well as on comparative sources, the new analyses outlined in these contributions will interest a readership of linguists, philologists, anthropologists, historians, lexicographers and specialists in the languages and cultures of Inner and South Asia. Contributions cover topics as diverse as linguistic palaeontology, orthographical standardisation, dialectology, phonology, morphology, semantics and syntax. [Verlagsinformation]
Inhalt
Notes on Contributors. vii
Mark Turin and Bettina Zeisler: Introduction. 1
PART ONE: THE HIMALAYAS IN HISTORY
1. George van Driem: Lost in the sands of time somewhere north of the Bay of Bengal. 13
PART TWO: PHONOLOGY AND SCRIPT
2. Heleen Plaisier: A key to four transcription systems of Lepcha. 41
3. Hiroyuki Suzuki: Dialectal Particularities of Sogpho Tibetan - An Introduction to the "Twenty-four villages' patois". 55
PART THREE: SEMANTICS (WORDS AND WORD CLASSES)
4. Brandon Dotson: On the Old Tibetan Term Khrin in the Legal and Ritual Lexicons. 77
5. Kazuyuki Kiryu: A functional analysis of adjectives in Newar. 99
PART FOUR: MORPHOLOGY AND SYNTAX
6. Ellen Bartee: The Role of Animacy in the Verbal Morphology of Dongwang Tibetan. 133
7. René Huysmans: The Sampang verbal agreement system. 183
8. Khawaja A. Rehman: Ergativity in Kundal Shahi, Kashmiri and Hindko. 219
9. Bettina Zeisler: Kenhat, the dialects of Upper Ladakh and Zanskar. 235
Index. 303
Herausgeber
MARK TURIN, Ph.D. (2006) in Descriptive Linguistics, Leiden University, is a Research Associate at the University of Cambridge where he directs the Digital Himalaya and World Oral Literature Projects. He writes widely on ethnolinguistics and language policy in Nepal. Profile page; Project page: Digital Himalaya.
BETTINA ZEISLER, Dr. Phil. (1999) in Indology, Free University Berlin, is currently directing a linguistic research project on Ladakhi verb semantics and valency at the University of Tübingen. Her research interests focus on the grammar and history of Tibetan languages. Profile page.
Quellen: Brill; WorldCat; Amazon; Library of Congress; Mitteilung in der Mailing-Liste H-Asia, vom 12. Mai 2011