Rural Nostalgia and Transnational Dreams
Verfasst von pw am Mo, 09/19/2011 - 00:14.
Mooney, Nicola:
Rural nostalgia and transnational dreams : identity and modernity among Jat Sikhs / Nicola Mooney. - Toronto : University of Toronto Press, 2011. - 336 S. - (Anthropological horizons)
ISBN 978-0-8020-9257-1
US$ 60,00
DDC: 294.6; 305.6946
-- Angekündigt für September 2011 --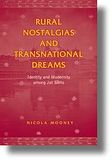 Beschreibung
Renowned as the predominant farmers and landlords of Punjab, and long possessed of an autocthonous agricultural identity, Jat Sikhs today often live urban and diasporiclives. Rural Nostalgias and Transnational Dreams examines the formation and meaning of Jat Sikh identity in the contemporary Indian city.
Nicola Mooney describes a number of Jat Sikh social practices and narratives through which contemporary notions of identity are developed. She contextualizes these elements of Jat Sikh modernity against local, regional, and national histories of cultural and political differentiation, perceptions of marginality, and the expression of increasingly exclusive notions and practices of identity. This unique ethnography incorporates first-hand observations and local narratives to develop insights into the traditions and social memory of Jat Sikhs, as well as on the issues of urban and transnational social transformation. [Verlagsinformation]
Inhalt
Acknowledgements
Glossary of Punjabi Terms
Note on Identity Terms
Prologue
1. Introduction: Jat Sikh Locations and the Bahu Ethnographer
2. Farming, Family and Faith: Elements of Jat Sikh Identity
3. Good Families: Marriage, Gender and Middle Class Jat Community
4. Good Fortunes: Education, Class and National Contingencies among Jats
5. Unities and Schisms in Jat Sikh Identity
6. The Rural Imaginary
7. A Wedding Phulkari and Other Gifts
8. Modern Jat Identities: Some Conclusions
Epilogue
Endnotes
Bibliography
Index
Autorin
NICOLA MOONEY is an instructor in the Department of Social, Cultural and Media Studies at University College of the Fraser Valley. Faculty page.
Quellen: University of Toronto Press; WorldCat; Amazon; Blackwell's