The Secret Śaṅkara
Verfasst von pw am Di, 02/08/2011 - 22:48.
Grinshpon, Yohanan:
The secret Śaṅkara : on multivocality and truth in Śaṅkara's teaching / by Yohanan Grinshpon. - Leiden : Brill, 2010. - xvii, 174 S. - (Jerusalem studies in religion and culture ; 12)
ISBN 978-90-04-18926-3 / 90-04-18926-2
EUR 86,00 / US$ 123,00
DDC: 181.482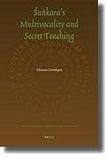 Beschreibung
Sankaracharya of the 8th century A.D is considered the greatest philosopher of India up to this day. his teaching of the one and only self has become the most prestigeous expression of the Hindu spirit. Sankara is the author of the Brahmasutrabhasya, the most important text of the school known as Advaita-Vedanta. Sankara teaches of the self by dialogues between a winning exponent and a losing opponent. Up to this day, Sankara's teaching has been invariably identified with the exponent's doctrines. In this book a distinction between the invisible author and his alleged exponent is offered. Sankara the author is a new intellectual hero different from his exponent. Thus, due to the aforementioned distinction, a new philosophy and theory of freedom emerges, the teaching of Sankara, the author distinguished from his apparent exponent. [Verlagsinformation]
Autor
YOHANAN GRINSHPON is a senior lecturer of Hindu philosophy, religion and literature in the Hebrew University, Jerusalem. He has published books on Yoga (Silence Unheard: Deathly Otherness in Patanjala-Yoga) and on the Upanishads (Crisis and Knowledge: The Upanishadic Experience and Story-Telling). Profile page.
Quellen: Brill; WorldCat; Amazon; Library of Congress