The Lost Age of Reason
Verfasst von pw am Sa, 03/12/2011 - 22:09.
Ganeri, Jonardon:
The Lost Age of Reason : Philosophy in Early Modern India 1450-1700 / Jonardon Ganeri. - Oxford : Oxford Univ. Press, 2011. - xiii, 284 S. - (The Oxford History of Philosophy)
ISBN 978-0-19-921874-5
£ 25,00
DDC: 181.4
-- Angekündigt für März 2011 --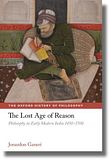 Beschreibung
The Lost Age of Reason deals with a fascinating and rich episode in the history of philosophy, one from which those who are interested in the nature of modernity and its global origins have a great deal to learn. Early modernity in India consists in the formation of a new philosophical self, one which makes it possible meaningfully to conceive of oneself as engaging the ancient and the alien in conversation. The ancient texts are now not thought of as authorities to which one must defer, but regarded as the source of insight in the company of which one pursues the quest for truth. This new attitude implies a change in the conception of one's duties towards the past. After reconstructing the historical intellectual context in detail, and developing a suitable methodological framework, Ganeri reviews work on the concept of knowledge, the nature of evidence, the self, the nature of the categories, mathematics, realism, and a new language for philosophy. A study of early modern philosophy in India has much to teach us today - about the nature of modernity as such, about the reform of educational institutions and its relationship to creative research, and about cosmopolitan identities in circumstances of globalisation. [Verlagsinformation]
Inhalt
Chronology. ix
Principal Philosophers Discussed. xi
Map. xiii
Introduction. 1
PART I: INDIA EXPANDING. 11
1. The World and India: 1656. 13
2. Dārā Shukoh: A Spacious Islam. 22
3. The Cosmopolitan Vision of Yaśovijaya Gaṇi. 31
4. Navadvīpa: A Place of Hindu-Muslim Confluence in Bengal. 39
PART II: TEXT AND METHOD. 61
5. Contextualism in the Study of Indian Philosophical Literature. 63
6. Philosophy outside Academies: Networks. 74
7. An Analysis of the New Reason's Literary Artefacts. 89
8. Commentary and Creativity. 102
PART III: THE POSSIBILITY OF INQUIRY. 117
9. Inquiry: The History of a Crisis. 119
10. Challenge From The Ritualists. 131
11. Interventions in a New Research Programme. 145
PART IV: THE REAL WORLD. 163
12. Realism in Question. 165
13. New Foundations in the Metaphysics of Mathematics. 181
14. Metaphysics in a Different Key. 200
PART V: A NEW LANGUAGE FOR PHILOSOPHY. 221
15. The Technical Language Assessed. 223
16. Rival Logics of Domain Restriction. 237
Conclusion. 244
Recommended Further Readings. 252
Bibliography. 254
Index. 279
Autor


JONARDON GANERI is a philosopher who draws upon Indian, European and Ango-American sources in his work. He is currently Professor of Philosophy at the University of Sussex. He read Mathematics at Cambridge before commencing graduate studies in Philosophy at London and Oxford. He has been a Jacobsen Fellow in Philosophy at King's College London and a Spalding Fellow at Clare Hall Cambridge. As well as teaching at various Universities in Britain, he has held visiting professorships at the University of Chicago and the University of Pennsylvania. Profile page.
Quellen: Oxford University Press (UK); WorldCat; Amazon (UK); Google Books