Indian Female Gurus in Contemporary Hinduism
Verfasst von pw am Mi, 01/26/2011 - 20:02.
Charpentier, Marie-Thérèse:
Indian female gurus in contemporary Hinduism : a study of central aspects and expressions of their religious leadership / Marie-Thérèse Charpentier. - Åbo : Åbo akademis förlag, 2010. - 395 S. : Ill.
Hochschulschrift. Åbo, Akad.-Univ., Diss., 2010
ISBN 978-951-765-544-6
EUR 42,95 (BookPlus)
EUR 47,50 (Suurikuu)
ISBN 978-951-765-545-3 (digital) [Online verfügbar]
DDC: 294.561082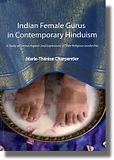 Beschreibung
The rich and complex history of Hinduism has primarily been written by male scholars and has documented the point of view of male spiritual strivings. This fact, together with patriarchal opinions expressed in many authoritative sacred texts, has contributed to creating an image of Indian spirituality in which female religious experience is either absent or considerably marginalized. This study deals with the steadily growing number of Indian women assuming public religious leadership roles within Hinduism today. many of these women contradict the usual social expectations of female subordination and promote a renewed awareness of age-old perceptions of God as the divine feminine.
Within the framework of the spiritual careers of seventy gurus, the phenomenon of contemporary female guruhood is investigated. Questions asked are, among others: How do female gurus participate in Hindu traditions? What expectations are placed on them? How is the guru's religious position legitimated? How are the dual roles of woman and guru adapted to each other? Does the centrality of goddess imagery in Indian spirituality reflect a positive evaluation of women in everyday life? Does the spiritual involvement of female gurus contribute to shaping and transforming Indian religious discourses and practices?
Beschreibung
Acknowledgment. 9
I. INTRODUCTION. 13
1. Prologue. 13
2. Problem formulation and research questions. 14
3. Previous research. 20
4. Theoretical and methodological approaches. 24
5. The Field: Seventy female gurus and four representatives. 34
6. My four examples. 36
7. The material. 37
8. Fieldwork methodology and methodological problems. 41
9. Confidentiality. 55
10. Expected contributions and potential relevance. 55
11. Presentation of chapters. 56
II. FEMALE GURUS IN HINDUISM: A HISTORICAL SURVEY FOLLOWED BY PORTRAITS OF FOUR FEMALE SPIRITUAL MASTERS. 59
1. The paradigm of guruhood in Hindu tradition. 59
2. Slowly emerging from their invisibility. 63
3. Portraits of four female gurus. 69
III. FEMALE GURUHOOD IN A SOCIAL SETTING. 93
1. "Caste" background. 94
2. Education. 99
3. Place of birth, geographic mobility, and religious environment. 103
4. The impact of Ramakrishna, Sharada Devi, and Vivekananda. 109
5. Conclusion. 114
IV. THE CALL TO HOLINESS: CHILDHOOD AND TEENS. 117
1. Miraculous birth and exemplary childhood. 120
2. Trances and illnesses. 125
3. Paranormal gifts. 130
4. "Going to the forest". 142
5. Conclusion. 142
V. FROM PRIVATE RELIGIOSITY TO PUBLIC RECOGNITION: BECOMING A GURU. 147
1. Scriptural and institutional authority. 148
2. Various forms of transmission of spiritual authority. 151
3. The centrality of religious experience and enlightenment. 157
4. Charismatic authority. 165
5. Female spiritual leadership, legitimacy, authority, and power. 168
6. Conclusion. 177
VI. FEMALE GURUHOOD, CELIBACY, AND MARRIED LIFE. 179
1. "To be in the world but not of it": the position of the Bhagavadgītā. 181
2. Tantra and married life. 183
3. Guruhood and householdership. 185
4. Strīdharma, pativratādharma, and the concept of śakti. 190
5. Sexual abstinence within marriage. 194
6. Rejecting Marriage. 197
7. When family members become disciples: Reversing the familial hierarchy. 203
8. Guruhood and widowhood. 208
9. Guruhood and divorce. 212
10. Conclusion. 216
VII. THE PLAY OF THE GODDESS. 222
1. The thousand faces of the Indian goddess. 222
2. The avatāra paradigm in Hindu thought. 228
3. Śakti and goddess worship. 230
4. The moods of the living goddess: ritualizing divine ecstasy. 232
5. Female avatārs. 243
6. Disciples' and gurus' perceptions of the sacred feminine in a human body, and the meanings of Indian goddess symbolism. 247
7. Does Hindu goddess worship translate into women's social status? 253
8. Conclusion. 258
VIII. CONFORMISTS OR REBELS? 261
1. Challenging social conventions. 262
2. Following purity restrictions. 267
3. An inner, silent "revolution". 276
4. Non-verbal communication and empowerment. 286
5. Conclusion. 292
IX. SUMMARY AND CONCLUDING REMARKS. 295
1. Summary. 295
2. Sanctioning and legitimizing female Hindu leadership. 302
3. Shaping and transforming religious leadership roles, discourses, and practices. 307
Sammanfattning. 313
Glossary. 323
Bibliography. 335
Appendix 1: List of Indian Female Gurus with Sources. 373
Appendix 2: List of Visited Āśrams. 389
Table: Varṇa; Place of Birth; Education; Marital Status; Children; Related Gurus. 391
Autorin
Marie-Thérèse Charpentier, Åbo Akademi University, Finland.
Quellen: Libris; Doria; WorldCat; WorldCat (2); BookPlus; Suurikuu