National Identities in Pakistan
Verfasst von pw am So, 01/23/2011 - 09:59.
Cilano, Cara:
National identities in Pakistan : the 1971 war in contemporary Pakistani fiction / Cara Cilano. - London [u.a.] : Routledge, 2011. - XI, 149 S. - (Routledge contemporary South Asia series ; 32)
ISBN 0-415-77958-8 / 978-0-415-77958-6
£ 80,00
DDC: 820.995491; 954.92051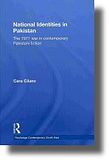 Beschreibung
In 1971, a war which took place in Pakistan that resulted in the establishment of two separate countries; East Pakistan became Bangladesh, leaving the remaining four western provinces to comprise a truncated Pakistan. This book examines how literature by those who remained Pakistanis acts as a cultural response to the threat the war posed to a nationalist identity. It provides an analysis of the writing by Pakistani authors in their attempt to deal with the radical shock of the war and shows how fiction about the war helps readers imagine what the paring down of the country means for any abiding articulation of a Pakistani group identification.
The author discusses English-and Urdu-language fictions in the context of the historical debate about Pakistani nationalism, including how such nationalism informs literary culture, and in the contemporary interest in official apologies for the past. The author organises the literary analysis around four key issues: the domestic sphere and the family; the territorial limits of citizenship; multiculturalism, class, and nationalist history; and diasporic imaginings of the nation. These issues resonate across the fictions in both languages and the author's analysis of them traces how these works grapple with changing notions of what it means to be Pakistani after the civil war and offers an interesting discussion to studies in South Asia. [Verlagsinformation]
Inhalt
Acknowledgements
1. Introduction: The 'Deep Wounds' of Nations. 1
2. 'It is Impossible to Assess Precisely Where the Truth Lies': The Diffusion of Authority in The Report of the Hamoodur Rehman Commission. 14
3. 'Freeing the Outlook of Man from Its Geographical Limitations': Nationalism, History, and Literature in Pakistan. 27
4. Domestic Violence: At Home in the Nation. 42
5. Eternally Displaced Persons: Inside the Borders, Outside the Nation. 67
6. Unfinished Business: Designs Against the Nation. 84
7. Distant Reflections, Distinct Refractions: Diaspora and the Nation. 101
8. Coda: Neighbourhood Watch: The 1971 Pakistani War in English-Language Fictions from Bangladesh and the Indian Diaspora. 121
Notes. 134
Bibliography. 141
Index. 147
Autorin
CARA CILANO is Associate Professor in the Department of English at the University of North Carolina- Wilmington, USA. She has edited a collection of essays, From Solidarity to Schisms: 9/11 and After in Fiction and Film from Outside the US (2009). Faculty profile.
Quellen: Routledge; Blackwell Bookshop Online; Amazon; WorldCat