Hermann Graßmann
Verfasst von pw am So, 03/06/2011 - 21:10.
Petsche, Hans-Joachim [u.a.] [Hrsg.]:
Hermann Graßmann : from past to future: Graßmann's work in context ; Graßmann bicentennial conference, September 2009 / Hans-Joachim Petsche ; Albert C. Lewis ; Jörg Liesen ; Steve Russ, editors. - Basel : Birkhäuser, 2011. - XX, 580 S. : Ill.
ISBN 978-3-0346-0404-8 (Print-Ausg.)
ISBN 978-3-0346-0405-5 (Online-Ausg.)
DOI: 10.1007/978-3-0346-0405-5
EUR 117,65
DDC: 510.92
-- Angekündigt für März 2011 --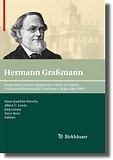 Beschreibung
On the occasion of the 200th anniversary of the birth of Hermann Graßmann (1809-1877), an interdisciplinary conference was held in Potsdam, Germany, and in Graßmann's hometown Szczecin, Poland. The idea of the conference was to present a multi-faceted picture of Graßmann, and to uncover the complexity of the factors that were responsible for his creativity. The conference demonstrated not only the very influential reception of his work at the turn of the 20th century, but also the unexpected modernity of his ideas, and their continuing development in the 21st century.
This book contains 37 papers presented at the conference. They investigate the significance of Graßmann's work for philosophical as well as for scientific and methodological questions, for comparative philology in general and for Indology in particular, for psychology, physiology, religious studies, musicology, didactics, and, last but not least, mathematics. In addition, the book contains numerous illustrations and English translations of original sources, which are published here for the first time. These include life histories of Graßmann (written by his son Justus) and of his brother Robert (written by Robert himself), as well as the paper "On the concept and extent of pure theory of number'' by Justus Graßmann (the father).
In November 2010 the capital of the federal state of Brandenburg (Germany) chose the Graßmann Conference as the first-time winner of the Potsdam Conference-Award in the category "Innovative and/or exceptional events". [Springer]
Aus dem Inhalt
Preface. xi
Abbreviations for works of Hermann Grassmann. xvii
ON THE LIVES OF THE GRASSMANN BROTHERS. 1
HISTORICAL CONTEXTS OF HERMANN GRASSMANN'S CREATIVITY. 17
PHILOSOPHICAL AND METHODOLOGICAL ASPECTS OF THE WORK OF THE GRASSMANN BROTHERS. 85
DIVERSITY OF THE INFLUENCE OF THE GRASSMANN BROTHERS. 129
PRESENT AND FUTURE OF HERMANN GRASSMANN'S IDEAS IN MATHEMATICS. 241
PRESENT AND FUTURE OF HERMANN GRASSMANN'S IDEAS IN PHILOLOGY. 343
John J. Ohala:
Hermann Grassmann: his contributions to historical linguistics and speech acoustics. 345
Maria Kozianka:
Grassmann's "Wörterbuch des Rig-Veda" (Dictionary of Rig-Veda): a milestone in the study of Vedic Sanskrit. 353
Toshifumi Gotō:
The Rigveda Dictionary from a modern viewpoint. 363
Thomas Krisch, Christina Katsikadeli, and Stefan Niederreiter:
Grassmann's contribution to lexicography and the living-on of his ideas in the Salzburg Dictionary to the Rig-Veda. 377
HERMANN GRASSMANN'S IMPACT ON MUSIC, COMPUTING AND EDUCATION. 389
Appendix. 453
References. 525
Index of names and citations. 553
[Für ein vollständiges Inhaltsverzeichnis siehe unten den Link zum Springer-Verlag]
Herausgeber
Hans-Joachim Petsche, Hochschuldozent am Institut für Philosophie der Universität Potsdam, Professur für theoretische Philosophie. Profilseite.
Quellen: Springer; Springerlink; Amazon; WorldCat; Google Books.