Strong Arms and Drinking Strength
Verfasst von pw am Fr, 04/08/2011 - 17:14.
Whitaker, Jarrod L.:
Strong arms and drinking strength : masculinity, violence, and the body in ancient India / Jarrod L. Whitaker. - New York : Oxford University Press, 2011. - ca. 240 S.
ISBN 978-0-19-975570-7
US$ 74,00
DDC: 294.59212048
-- Angekündigt für März 2011 --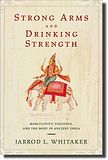 Beschreibung
Jarrod L. Whitaker examines the ritualized poetic construction of male identity in the Rgveda , India's oldest Sanskrit text, arguing that an important aspect of early Vedic life was the sustained promotion and embodiment of what it means to be a true man. The Rgveda contains over a thousand hymns, addressed primarily to three gods: the deified ritual Fire, Agni; the war god, Indra; and Soma, who is none other than the personification of the sacred beverage soma. The hymns were sung in day-long fire rituals in which poet-priests prepared the sacred drink to empower Indra. The dominant image of Indra is that of a highly glamorized, violent, and powerful Aryan male; the three gods represent the ideals of manhood.
Whitaker finds that the Rgvedic poet-priests employed a fascinating range of poetic and performative strategies--some explicit, others very subtle--to construct their masculine ideology, while justifying it as the most valid way for men to live. Poet-priests naturalized this ideology by encoding it within a man's sense of his body and physical self. Rgvedic ritual rhetoric and practices thus encode specific male roles, especially the role of man as warrior, while embedding these roles in a complex network of social, economic, and political relationships.
Strong Arms and Drinking Strength is the first book in English to examine the relationship between Rgvedic gods, ritual practices, and the identities and expectations placed on men in ancient India. [Verlagsinformation]
Inhalt
Acknowledgements. ix
Introduction. 3
1. Manhood and Masculinity. 35
2. Brave Men and Manliness. 59
3. Mighty Champions and Slaying the Dragon. 109
4. Strong Arms and Drinking Strength. 133
Conclusion. 161
Notes. 167
Bibliography. 203
Index of Passages. 211
Index of Subjects. 223
Autor
Jarrod L. Whitaker is an Assistant Professor in the Department of Religion at Wake Forest University, where he teaches courses relating to Asian Religions, especially Hinduism and Buddhism, and also theory and method courses on religion, ritual, and gender. He holds a M.A. with First Class Honors in Religious Studies from The University of Canterbury, New Zealand (1998), and a Ph.D. in Asian Cultures and Languages from The University of Texas at Austin (2005). Profile page.
Quellen: Oxford University Press; WorldCat; Library of Congress; Amazon