Bollywood in the Age of New Media
Verfasst von pw am So, 11/14/2010 - 12:16.
Basu, Anustup:
Bollywood in the age of new media : the geo-televisual aesthetic / Anustup Basu. - Edinburgh : Edinburgh University Press [in den USA vertrieben von Columbia University Press], 2010. - x, 262 S. : Ill.
ISBN 978-0-7486-4102-4 / 0-7486-4102-5
£ 65,00
DDC: 791.430954
Beschreibung
This study of popular Indian cinema in an age of globalisation, new media, and metropolitan Hindu fundamentalism focuses on the period from 1991 to 2004. Popular Hindi cinema took a certain spectacular turn from the early nineties as a signature 'Bollywood style' evolved in the wake of liberalization and the inauguration of a global media ecology in India. Films increasingly featured transformed bodies, fashions, life-styles, commodities, gadgets, and spaces, often in non-linear, 'window-shopping' ways, without any primary obligation to the narrative. Flows of desires, affects, and aspirations frequently crossed the bounds of stories and determined milieus. One example is the film Haqeeqat that featured poor working class protagonists, but romantic musical sequences transported them abruptly to Switzerland, with the actors now dressed in designer suits. Basu theorises this overall cinematic-cultural ecology here as an informational geo-televisual aesthetic.
This book connects this filmic geo-televisual style to an ongoing story of the uneven globalizing process in India. Basu argues that 'Bollywood' is not so much indicative of a uniquely Indian modernity coming into its own; rather it is symptomatic of a pure techno-financial modernization that comes without a political modernity. Bollywood in the Age of New Media therefore explains how the irreverent energies of the new can actually be tied to conservative Brahminical imaginations of class, caste, or gender hierarchies. Using a wide-ranging methodological approach that converses with theoretical domains of post-structuralism, post-colonialism, and film and media studies, this book presents a complex account of an India of the present caught between brave new silicon valleys and farmer suicides. [Verlagsinformation]
Inhalt
SECTION I: INTRODUCTION
1. Cinematic 'Assemblages': The Nineties and Earlier
2. The Geo-televisual and Hindi Film in the Age of Information
SECTION II: INFORMATICS, SOVEREIGNTY AND THE CINEMATIC CITY
3. Allegories of Power/Information
4. The Music of Intolerable Love: Indian Film Music, Globalization, and the Sound of Partitioned Selves
SECTION III: MYTH AND REPETITION
5. Technopolis and the Ramayana: New Temporalities
6. Repetitions with Difference: Mother India and her Thousand Sons
Epilogue
Autor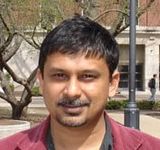 ANUSTUP BASU is Assistant Professor of English and Cinema Studies, University of Illinois at Urbana-Champaign. Profile page.
Quellen: Edinburgh University Press; WorldCat; Amazon; Columbia University Press