Heritage conservation and research in India
Verfasst von pw am Fr, 11/05/2010 - 20:12.
Krist, Gabriela [u.a.] [Hrsg.]:
Heritage conservation and research in India : 60 years of Indo-Austrian collaboration ; erweiterter Sammelband anlässlich der Tagung "60 Years of Indo-Austrian Cooperation. Cultural Heritage Counts. Research, Conservation and Management" im National Museum New Delhi, 20./21. August 2009 / Gabriela Krist ; Tatjana Bayerová (Hg.). Red.: Kathrin Schmidt. - Wien [u.a.] : Böhlau, 2010. - 184, [44] S. : Ill., graph. Darst. - (Konservierungswissenschaft, Restaurierung, Technologie ; 6)
ISBN 978-3-205-78561-3
EUR 35,00
DDC: 702.880954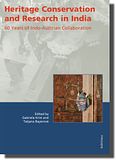 Beschreibung
2009 marked the 60th anniversary of the diplomatic relations of the Republic of India and the Republic of Austria. The Conservation Department of the University of Applied Arts Vienna presents this volume largely based on papers reported at the conference "Cultural Heritage Counts - Research, Conservation and Management" held in New Delhi in August, 2009. The conference was a crucial contribution initiated by the Austrian Cultural Forum New Delhi to celebrate this important jubilee. The successful and intensive cooperation of both countries in the fields of the research and conservation of cultural heritage is reflected in numerous research and conservation projects presented in this book. [Verlagsinformation]
Inhalt
Vorwort / Gerald Bast. 7
Vorwort / Gabriela Krist. 11
Margit Franz:
Sanskrit to Avantgarde. Indo-österreichische Initiativen zur Dokumentation und Förderung von Kunst und Kultur. 15
Andreas Lehne:
Denkmalschutz und Denkmalpflege in Österreich. Geschichte,Entwicklung,Zukunft. 35
Bettina Bäumer:
Text and Temple in Orissa: The Rājarāṇī Temple of Bhubaneswar. 41
Ebba Koch:
Taj Mahal – Survey, Documentation (1995–2005) and Analysis. Its Bearing on Conservation. 47
Andrea Loseries:
Indo-Tibetan Studies at Visva-Bharati, Santiniketan. Challenges of a Heritage Research Department in India. 57
Gerald Kozicz:
Verdeckte Fugen. Aspekte der räumlichen Symbolik im tantrisch geprägten Buddhismus in Ladakh und deren Auswirkung auf Konstruktionsprinzipien in der Tempelarchitektur. 67
Wolfgang Heusgen:
The Wanla Temple in Ladakh – 10 Years of Structural Investigation and Renovation. 73
Christian Luczanits, Holger Neuwirth:
The Development of the Alchi Temple Complex. An interdisciplinary approach. 79
Gabriela Krist, Maria Gruber:
Für Nako. Erhaltung des tibetischen Kulturerbes. 85
Tatjana Bayerová, Maria Gruber:
For Nako – A Technical Study of Earthen Structures and Paintings. Field work close to heaven. 99
Martina Griesser-Stermscheg:
Das Nako-Museum: Von der Sammlungsgründung bis zur "dauerhaften Wechselpräsentation". 111
Charu Smita Gupta:
Traditional Indian Crafts and Heritage. 119
M.V. Nair:
Status of Conservation Research in India. 121
Gabriela Krist:
Conservation Studies and Training in Austria. 129
Kamal K. Jain and Namrata Dalela:
Academic Conservation Training Programmes in India and International Networking. 139
Anamika Pathak:
The Textile Collection at the National Museum, New Delhi. 147
Regina Knaller:
"Coptic Textiles" – Techniques and Conservation. 155
Barbara Karl:
Indien in Wien: Objekte aus den islamisch geprägten Regionen Indiens in den Sammlungen der Wiener Museen. 167
Namrata Dalela, Dharmendra Misra and Kamal K. Jain:
A Report on the Indo-Austrian Workshop on Preventive Conservation of Textiles. 175
List of Authors. 182
Herausgeberinnen
GABRIELA KRIST ist Universitätsprofessorin an der Universität für angewandte Kunst Wien und Leiterin des Institutes für Konservierung und Restaurierung / Conservation Department. Profilseite.
TATJANA BAYEROVÁ MSc, since 2000 a senior lecturer and a head of the chemical laboratory at the Conservation Department at the University of Applied Arts Vienna.
Quellen: Böhlau Verlag; Deutsche Nationalbibliothek; WorldCat; Amazon (Deutschland)