Indianisation of English
Verfasst von pw am So, 10/24/2010 - 10:58.
Bandyopadhyay, Sumana:
Indianisation of English : analysis of linguistic features in seclected post-1980 Indian English fiction / Sumana Bandyopadhyay. - New Delhi : Concept Publishing Company, 2010. - xl, 184 S. : Ill.
ISBN 978-81-8069-703-6
US$ 25,70 (D.K. Agencies)
US$ 31,00 (Vedams Books)
US$ 38,10 (K.K. Agencies)
DDC: 420.954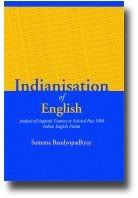 Beschreibung
Sumana Bandyopadhyay examines the linguistic aspects of Indian English literary works in the context of multilingualism and importance of a second language in India. The exploratory work discusses the domains in which Indian English tends to be used and linguistic factors determining the Indianness of Indian English. With detailed excerpts from some of the well-known authors in Indian English including Amitav Ghosh, Vikram Seth, Salman Rushdie and Arundhati Roy, it defines Indian English and the process of Indianisation of English. It tries to find out certain aspects of Indiannness of Indian English at the levels of phomnology, morphology, syntax and semantics. It deals with the functional features of Indian English with specific reference to repetition, clichés and Indianisms. It points out certain interesting features of Indian English, such as repetition being a major feature in conversational extracts and frequent occurrence of that complementiser and comparatively sparse occurrence of wh-complementiser.
Inhalt
Preface
1. Introduction
2. Review of literature
3. Phonological features
4. Lexical features
5. Functional Features
6. Structural features
Bibliography
Index
Autorin
SUMANA BANDYOPADHYAY, Indian Institute of Technology, Kanpur. Profile. Seit 2010 Lecturer in ELT at Netaji Subhas Open University, Kolkata.
Quellen: Concept Publishing; D.K. Agencies; K.K. Agencies; Vedams Books; WorldCat