Sacred topology
Verfasst von pw am Fr, 10/22/2010 - 19:16.
Fomin, Maxim [u.a.] [Hrsg.]:
Sacred topology of early Ireland and ancient India : religious paradigm shift ; Proceedings of the international Interdisciplinary Project, May 2006-May 2009, funded by the British Academy and Russian Academy of Sciences ... / ed. by Maxim Fomin, Séamus Mac Mathúna, Victoria Vertogradova. - Washington : Institute for the Study of Man, 2010. - XIV, 239 S. : Ill. - (Journal of Indo-European studies monograph series ; 57)
ISBN 978-0-9845353-0-9 (Hardback)
US$ 82,00
ISBN 978-0-9845353-1-6 (Paperback)
US$ 52,00
DDC: 203.5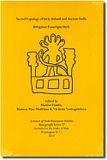 Aus dem Inhalt
Séamus Mac Mathúna:
Sacred Landscape and Water Mythology in Early Ireland and Ancient India
Victoria Vertogradova:
Man-Made Sacer Locus throughout the Religious Paradigm Shift: On the Track of the Snake Cult in Ancient Mathurā
Nataliya Alexandrova:
Legends of Chthonic Deities and Buddhist Historical Narrative of Ancient India
Grigory Bondarenko:
Significance of Pentads in Early Irish and Indian Sources - Case of Five Directions
Yevgenyi Vyrschikov:
Social Classifications and Sacred Space in the Pāli Canon
Dar Zhutayev:
Sacred Topology of the Buddhist Universe - The Buddhakṣetra Concept in the Mahāsāṃghika-Lokottaravādin Tradition
Maxim Fomin:
And His Cloak Covered the Whole Island - Stories of Religious Conversion in Pāli and Medieval Irish Narrative traditions.
Herausgeber
MAXIM FOMIN, Lecturer in Humanities, University of Ulster. Profile page.
Quellen: The Journal of Indo-European Studies; WorldCat; Library of Congress